According to the report, global fluoropolymer market was valued at USD 7.39 billion in 2016, is expected to reach USD 10.49 billion in 2021 and is anticipated to grow at a CAGR of 6.0 % between 2017 and 2022.Fluoropolymers are polymers that have several strong carbon-fluorine bonds. Fluoropolymers possess many unique properties such as chemical resistant and mechanical and electrical insulation. These properties make fluoropolymers attractive as highly durable protective coatings in many different architectural coating formulations, particularly those intended for exterior applications due to the need for excellent weather ability. Fluoropolymers are very popular in industrial processing industries owing to their chemical and oil resistant properties.
[wptab name='Report Description' active="1″ ]
According to the report, global fluoropolymer market was valued at USD 7.39 billion in 2016, is expected to reach USD 10.49 billion in 2021 and is anticipated to grow at a CAGR of 6.0 % between 2017 and 2022.
Fluoropolymers possess excellent properties such as chemical resistance, weather stability, low surface energy, low coefficient of friction, and low dielectric constant. These properties come from its special electronic structure of the fluorine atom, the stable carbon-fluorine covalent bonding, and the unique Intra and intermolecular interactions between fluorinated polymers. Due to fluoropolymer's unique physical and chemical properties, they are widely applied in the electrical, construction, chemical, and automotive industries.
The worldwide fluoropolymer market is primarily driven increasing demand for the fluropolymer from various end user applications. Fluoropolymers exhibit properties superior to other polymeric substances and rubber which makes them ideally suitable for a wide range of applications, especially applications demanding extreme environments such as high chemical resistance, weldability, mechanical strength, high-temperature stability, etc. Automotive and transportation industry is the largest end user application for fluoropolymers. The increasing tendency towards lower vehicle weight, lower emissions, and enhanced fuel efficiency is expected to drive the consumption growth of fluoropolymers in the automotive and transportation industry. However, stringent government regulations regarding the fluoropolymers production and usage may hold back the market growth.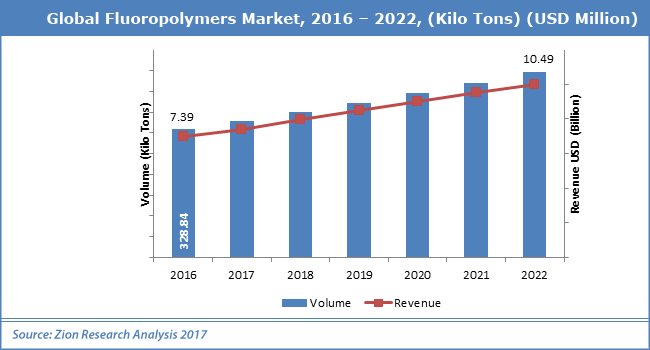 The global fluoropolymers market is segmented based on product, application, and region. On the basis of product, market is segmented into PTFE, PVDF, FEP, and fluoroelastomers.  PTFE segment was the leading product segment accounting for the significant share in the overall fluoropolymers market in 2016 owing to its enhanced wear resistance and chemical stability properties. Polyvinylidene difluoride (PVDF) is expected to witness the fastest growth in the forecast period. PVDF has been used in the architectural coating industry, the wire and cable industry and the chemical industry for pumps, bearings, and valves. Heat-shrinkable tubing made from PVDF is utilized in the aerospace, aircraft, and electronics. The commercial PVDF products include Kynar from Arkema, Solef from Solvay, and Neoflon PVDF from Daikin. On the basis of application fluoropolymer market is segmented into automotive & transportation, electrical & electronics, chemical processing, and industrial equipment applications. In 2016, industrial applications dominated the global fluoropolymers market.
Asia-Pacific was the largest regional segment in the fluoropolymers market in 2015 followed by North America and Europe. This growth is mainly attributed to rising demand from the automotive industry.  North America is second in terms of demand for fluoropolymers. A large portion of this region's fluoropolymers demand comes from the industrial processing for PTFE segment. The growth rate of fluoropolymers demand is expected to slow down in North America and Europe, owing to a relatively saturated market and the growing concerns over environmental safety.
Key players operating in the fluoropolymers market include Daikin Industries Limited, E.I. Dupont DE Nemours & Company, Solvay SA, Asahi Glass Co. Ltd., Arkema SA, 3M Company, Dongyue Group Ltd, Gujarat Fluorochemicals Ltd. (GFL), Halopolymer Ojsc, Honeywell International Inc., Kureha Corporation, and Saint-Gobain. Daikin, DuPont, Asahi Glass Company, Solvay Solexis, 3M Company and Honeywell dominated fluoropolymers market share in 2016. This market is characterized by new product innovations and strategic partnerships with end users.
[/wptab]
[wptab name='Table of content']
Chapter 1. Preface

1.1. Report description and scope
1.2. Research scope
1.3. Research methodology

1.3.1. Market research process
1.3.2. Market research methodology

Chapter 2. Executive Summary

2.1. Global fluoropolymer market, 2016 – 2022, (USD Billion) (Kilo Tons)
2.2. Fluoropolymer: Market snapshot

Chapter 3. Fluoropolymer Market: Industry Analysis

3.1. Fluoropolymer: Market dynamics
3.2. Market Drivers

3.2.1. Strong demand for fluoropolymers in emerging countries
3.2.2. Growing key end-user industries

3.3. Restraints

3.3.1. Stringent government regulations regarding the fluoropolymers production and usage

3.4. Opportunity

3.4.1. Growing Demand for Fluoropolymers in the emerging applications such as waterproof clothing, non-stick cookware and dental filling.

3.5. Porter's Five Forces Analysis
3.6. Market Attractiveness Analysis

3.6.1. Market attractiveness analysis by product
3.6.2. Market attractiveness analysis by application
3.6.3. Market attractiveness analysis by region

Chapter 4. Global Fluoropolymer Market: Competitive Landscape

4.1. Company Market Share Analysis

4.1.1. Global fluoropolymer market: company market share, 2016

4.2. Strategic Development

4.2.1. Acquisitions & Mergers
4.2.2. New Resins Launch
4.2.3. Agreements, Partnerships, Collaborations and Joint Ventures
4.2.4. Research and Development, Resins and Regional Expansion

4.3. Product Portfolio

Chapter 5. Global Fluoropolymer Market: Product Overview

5.1. Global fluoropolymer market share, by product, 2016 and 2021
5.2. PTFE

5.2.1. Global PTFE market, 2016 – 2021 (USD Billion) (Kilo Tons)

5.3. PVDF

5.3.1. Global PVDF market, 2016 – 2021 (USD Billion) (Kilo Tons)

5.4. FEP

5.4.1. Global FEP market, 2016 – 2021 (USD Billion) (Kilo Tons)

5.5. Fluoroelastomers

5.5.1. Global Fluoroelastomers market, 2016 – 2021 (USD Billion) (Kilo Tons)

Chapter 6. Global Fluoropolymer Market: Application Overview

6.1. Global fluoropolymer market share, by application, 2016 and 2021
6.2. Automotive & Transportation

6.2.1. Global fluoropolymer market for automotive & transportation, 2016 – 2021 (USD Billion) (Kilo Tons)

6.3. Electrical & Electronics

6.3.1. Global fluoropolymer market for electrical & electronics, 2016 – 2021 (USD Billion) (Kilo Tons)

6.4. Chemical Processing

6.4.1. Global fluoropolymer market for chemical processing, 2016 – 2021 (USD Billion) (Kilo Tons)

6.5. Industrial Equipment

6.5.1. Global fluoropolymer market for industrial equipment application, 2016 – 2021 (USD Billion) (Kilo Tons)

Chapter 7. Global Fluoropolymer Market: Regional Analysis

7.1. Global fluoropolymer market: Regional overview

7.1.1. Global fluoropolymer market share, by region, 2016 and 2021

7.2. North America

7.2.1. North America fluoropolymer market volume, by product, 2016 – 2021 (USD Billion) (Kilo Tons)
7.2.2. North America fluoropolymer market volume, by application, 2016 – 2021 (USD Billion) (Kilo Tons)

7.3. Europe

7.3.1. Europe fluoropolymer market volume, by product, 2016 – 2021 (USD Billion) (Kilo Tons)
7.3.2. Europe fluoropolymer market volume, by application, 2016 – 2021 (USD Billion) (Kilo Tons)

7.4. Asia Pacific

7.4.1. Asia Pacific fluoropolymer market volume, by product, 2016 – 2021 (USD Billion) (Kilo Tons)
7.4.2. Asia Pacific fluoropolymer market volume, by application, 2016 – 2021 (USD Billion) (Kilo Tons)

7.5. Latin America

7.5.1. Latin America fluoropolymer market volume, by product, 2016 – 2021 (USD Billion) (Kilo Tons)
7.5.2. Latin America fluoropolymer market volume, by application, 2016 – 2021 (USD Billion) (Kilo Tons)

7.6. Middle East & Africa

7.6.1. Middle East & Africa fluoropolymer market volume, by product, 2016 – 2021 (USD Billion) (Kilo Tons)
7.6.2. Middle East & Africa fluoropolymer market volume, by application, 2016 – 2021 (USD Billion) (Kilo Tons)

Chapter 8. Company Profiles

8.1. Daikin Industries Limited

8.1.1. Overview
8.1.2. Financials
8.1.3. Resins portfolio
8.1.4. Business strategy
8.1.5. Recent developments

8.2. E.I. Dupont DE Nemours & Company

8.2.1. Overview
8.2.2. Financials
8.2.3. Resins portfolio
8.2.4. Business strategy
8.2.5. Recent developments

8.3. Solvay SA

8.3.1. Overview
8.3.2. Financials
8.3.3. Resins portfolio
8.3.4. Business strategy
8.3.5. Recent developments

8.4. IHI Ionbond AG

8.4.1. Overview
8.4.2. Financials
8.4.3. Resins portfolio
8.4.4. Business strategy
8.4.5. Recent developments

8.5. Asahi Glass Co. Ltd.

8.5.1. Overview
8.5.2. Financials
8.5.3. Resins portfolio
8.5.4. Business strategy
8.5.5. Recent developments

8.6. Arkema SA

8.6.1. Overview
8.6.2. Financials
8.6.3. Resins portfolio
8.6.4. Business strategy
8.6.5. Recent developments

8.7. 3M Company

8.7.1. Overview
8.7.2. Financials
8.7.3. Resins portfolio
8.7.4. Business strategy
8.7.5. Recent developments

8.8. Dongyue Group Ltd

8.8.1. Overview
8.8.2. Financials
8.8.3. Resins portfolio
8.8.4. Business strategy
8.8.5. Recent developments

8.9. Gujarat Fluorochemicals Ltd. (GFL)

8.9.1. Overview
8.9.2. Financials
8.9.3. Resins portfolio
8.9.4. Business strategy
8.9.5. Recent developments

8.10. Halopolymer Ojsc

8.10.1. Overview
8.10.2. Financials
8.10.3. Resins portfolio
8.10.4. Business strategy
8.10.5. Recent developments

8.11. Honeywell International Inc.

8.11.1. Overview
8.11.2. Financials
8.11.3. Resins portfolio
8.11.4. Business strategy
8.11.5. Recent developments

8.12. Kureha Corporation

8.12.1. Overview
8.12.2. Financials
8.12.3. Resins portfolio
8.12.4. Business strategy
8.12.5. Recent developments

8.13. Saint-Gobain

8.13.1. Overview
8.13.2. Financials
8.13.3. Resins portfolio
8.13.4. Business strategy
8.13.5. Recent developments
---
List of Figures
1. Global fluoropolymer market segmentation by product, application, end user, and geography
2. Global fluoropolymer market, 2016 – 2021 (USD Billion) (Kilo Tons)
3. Value chain analysis: Fluoropolymer market
4. Porter's five forces analysis: Fluoropolymer market
5. Market attractiveness analysis by product
6. Market attractiveness analysis by application
7. Market attractiveness analysis by region
8. Global fluoropolymer market : Company market share, 2016
9. Global fluoropolymer market share, by product, 2016 -2021
10. Global PTFE fluoropolymer market, 2016 – 2021 (USD Billion) (Kilo Tons)
11. Global PVDF fluoropolymer market, 2016 – 2021 (USD Billion) (Kilo Tons)
12. Global  FEP fluoropolymer market, 2016 – 2021 (USD Billion) (Kilo Tons)
13. Global fluoroelastomers fluoropolymer market, 2016 – 2021 (USD Billion) (Kilo Tons)
14. Global fluoropolymer market share, by application, 2016 -2021
15. Global fluoropolymer market for automotive & transportation, 2016 – 2021 (USD Billion) (Kilo Tons)
16. Global fluoropolymer market for electrical & electronics, 2016 – 2021 (USD Billion) (Kilo Tons)
17. Global fluoropolymer market for chemical processing, 2016 – 2021 (USD Billion) (Kilo Tons)
18. Global fluoropolymer market for industrial equipment applications, 2016 – 2021 (USD Billion) (Kilo Tons)
19. Global fluoropolymer market share, by region, 2016 – 2021
20. North America fluoropolymer market, 2016 – 2021, (USD Billion) (Kilo Tons)
21. Europe fluoropolymer market, 2016 – 2021, (USD Billion) (Kilo Tons)
22. Asia Pacific fluoropolymer market, 2016 – 2021, (USD Billion) (Kilo Tons)
23. Latin America fluoropolymer market, 2016-2021, (USD Billion) (Kilo Tons)
24. Middle East & Africa fluoropolymer market, 2016 – 2021, (USD Billion) (Kilo Tons)
---
List of Tables
1. Global fluoropolymer market snapshot
2. Drivers for fluoropolymer market: Impact analysis
3. Restraints of fluoropolymer market: Impact analysis
4. North America fluoropolymer market volume, by product, 2016 – 2021 (USD Billion)
5. North America fluoropolymer market volume, by application, 2016 – 2021 (USD Billion)
6. Europe fluoropolymer market volume, by product, 2016 – 2021 (USD Billion)
7. Europe fluoropolymer market volume, by application, 2016 – 2021 (USD Billion)
8. Asia Pacific fluoropolymer market volume, by product, 2016 – 2021 (USD Billion)
9. Asia Pacific fluoropolymer market volume, by application, 2016 – 2021 (USD Billion)
10. Latin America fluoropolymer market volume, by product, 2016 – 2021 (USD Billion)
11. Latin America fluoropolymer market volume, by application, 2016 – 2021 (USD Billion)
12. Middle East & Africa fluoropolymer market volume, by product, 2016 – 2021 (USD Billion)
13. Middle East & Africa fluoropolymer market volume, by application, 2016 – 2021 (USD Billion)
[/wptab]
[wptab name='Request For Sample']
[/wptab]
[end_wptabset]