According to the report, global green packaging market was valued at USD 161.50 billion in 2015 and is expected to reach USD 242.50 billion in 2021, growing at a CAGR of 7.0% between 2016 and 2021. Packaging is the most important entity that helps to attract the customer attention towards the product. In various packaging techniques, green packaging is the most popular technique that is in great demand due to its excellent characteristics. The report covers forecast and analysis for the green packaging market on a worldwide, regional and country level. The study provides historic information of 2015 together with a forecast from 2016 to 2021 supported each volume (kilo tons) and revenue (USD million).

According to the report, global green packaging market was valued at USD 161.50 billion in 2015 and is expected to reach USD 242.50 billion in 2021, growing at a CAGR of 7.0% between 2016 and 2021.
Green packaging is an alternative to the conventional form of packaging, which is being used to reduce the impact on the environment and energy consumption. It is also known as sustainable packaging. Green packaging uses environmentally-sensitive methods of packaging including biodegradable materials, energy efficiency, down-gauging and reusability. Moreover, green packaging supports human and ecological health. This parameter is expected to drive the demand of green packaging high in near future.
The global green packaging market is driven by multiple factors. One of the major factors is growing health awareness among consumers. The increase in packaging waste leads to the imposition of rules and regulations by the government is likely to propel the demand for green packaging over the future years. Rapid growth in disposable income is another major factor that will have the positive impact on green packaging demand among consumers. However, poor infrastructure for recycling process may limit the growth of green packaging. Furthermore, growing awareness and attempt to reduce the environmental pollution may offer new opportunities for green packaging market during the years to come.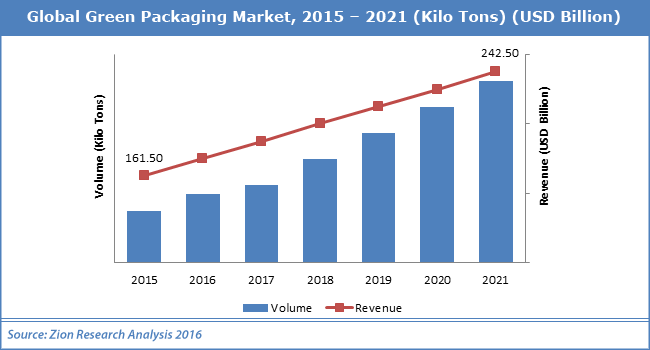 Based on types of packaging, the global green packing market is bifurcated into reusable packaging, recycled content packaging, and degradable packaging.  The global green packaging market was governed by recycled content packaging in 2015. Additionally, reusable packaging was the second largest segment in the same year. The products such as containers, drums, cylinders, plastic boxes and wooden pallets come under reusable packaging. This segment is likely to have strong demand in coming years due to growing shipment of chemicals, food and medicinal drugs.  Furthermore, the degradable packaging material is degraded naturally. Thus, it is expected to have moderate growth within the forecast period.
The global green packaging market is segmented on basis of applications such as personal care, food and beverages, healthcare and other applications. Food and beverages emerged as largest application segment of global green packaging market in 2015. It accounted over 45.0% shares of the total market and further it is expected to remain its dominance over the market in near future. This growth is attributed to the strong demand and regulations imposed by regulatory bodies on food packaging industries. Moreover, personal care and health care are expected to have significant growth owing to the adoption of eco-friendly techniques.
In terms of region, North America held to be a foremost region for the strong demand of green packaging material in 2015. U.S. was the largest revenue contributor due to the strong government support. Furthermore, it is also expected to continue this trend owing to the rising demand from food and beverage industry in the region. Europe was the second largest market for green packaging in the same year. Asia Pacific is expected to be one of the fastest growing markets in near future owing to the emerging economies such as China and India. Latin America and the Middle East & Africa are also an important market that is expected to have potential growth in coming years owing to the emerging food and beverages industries.
Some of the key vendors of global green packaging market are Amcor, Berry Plastics, BASF, DuPont, Printpack, Inc., Innovia Films Ltd, Bemis Company, Tetra Laval and Ball Corporation amongst others.

Chapter 1. Preface

1.1. Report description and scope
1.2. Research scope
1.3. Research methodology

1.3.1. Market research process
1.3.2. Market research methodology

Chapter 2. Executive Summary

2.1. Global green packaging market, 2015 – 2021, (USD Million)
2.2. Green packaging: Market snapshot

Chapter 3. Green packaging Market: Industry Analysis

3.1. Green packaging: Market dynamics
3.2. Value Chain Analysis
3.3. Market Drivers

3.3.1. Stringent rules and regulations
3.3.2. Growing demand from food and beverage industry

3.4. Restraints

3.4.1. Poor infrastructure of degradation process

3.5. Opportunity

3.5.1. Environmental concerns

3.6. Porter's Five Forces Analysis
3.7. Market Attractiveness Analysis

3.7.1. Market attractiveness analysis by type
3.7.2. Market attractiveness analysis by application segment
3.7.3. Market attractiveness analysis by regional segment

Chapter 4. Global Green packaging Market: Competitive Landscape

4.1. Company Market Share Analysis

4.1.1. Global green packaging market: company market share, 2015

4.2. Strategic Development

4.2.1. Acquisitions & Mergers
4.2.2. New Type Launch
4.2.3. Agreements, Partnerships, Collaborations and Joint Ventures
4.2.4. Research and Development, Type and Regional Expansion

4.3. Price Trend Analysis
4.4. Type Portfolio
4.5. Patent Analysis (2011-2016)

4.5.1. Patent Trend
4.5.2. Patent Share by Company
4.5.3. By Region

Chapter 5. Global Green Packaging Market: Type Overview

5.1. Global green packaging market share, by type, 2015 and 2021
5.2. Reusable Packaging

5.2.1. Global reusable packaging market, 2015 – 2021 (Kilo Tons)(USD Million)

5.3. Recycled Content Packaging

5.3.1. Global recycled content packaging market, 2015 – 2021 (Kilo Tons)(USD Million)

5.4. Degradable Packaging

5.4.1. Global degradable packaging market, 2015 – 2021 (Kilo Tons)(USD Million)

Chapter 6. Global Green Packaging Market: Application Overview

6.1. Global green packaging market share, by application, 2015 and 2021
6.2. Personal Care

6.2.1. Global green packaging market for personal care, 2015 – 2021 (Kilo Tons)(USD Million)

6.3. Food and Beverages

6.3.1. Global green packaging market for food and beverages, 2015 – 2021 (Kilo Tons)(USD Million)

6.4. Healthcare

6.4.1. Global green packaging market for healthcare, 2015 – 2021 (Kilo Tons)(USD Million)

6.5. Others

6.5.1. Global green packaging market for other applications, 2015 – 2021 (Kilo Tons) (USD Million)

Chapter 7. Global Green Packaging Market: Regional Analysis

7.1. Global green packaging market: Regional overview

7.1.1. Global green packaging market share, by region, 2015 and 2021

7.2. North America

7.2.1. North America green packaging market volume, by type, 2015 – 2021 (Kilo Tons)
7.2.2. North America green packaging market revenue, by type, 2015 – 2021 (USD Million)
7.2.3. North America green packaging market volume, by application, 2015 – 2021 (Kilo Tons)
7.2.4. North America green packaging market revenue, by application, 2015 – 2021 (USD Million)
7.2.5. U.S.

7.2.5.1. U.S. green packaging market volume, by type, 2015 – 2021 (Kilo Tons)
7.2.5.2. U.S. green packaging market revenue, by type, 2015 – 2021 (USD Million)
7.2.5.3. U.S. green packaging market volume, by application, 2015 – 2021 (Kilo Tons)
7.2.5.4. U.S. green packaging market revenue, by application, 2015 – 2021 (USD Million)

7.3. Europe

7.3.1. Europe green packaging market volume, by type, 2015 – 2021 (Kilo Tons)
7.3.2. Europe green packaging market revenue, by type, 2015 – 2021 (USD Million)
7.3.3. Europe green packaging market volume, by application, 2015 – 2021 (Kilo Tons)
7.3.4. Europe green packaging market revenue, by application, 2015 – 2021 (USD Million)
7.3.5. UK

7.3.5.1. UK green packaging market volume, by type, 2015 – 2021 (Kilo Tons)
7.3.5.2. UK green packaging market revenue, by type, 2015 – 2021 (USD Million)
7.3.5.3. UK green packaging market volume, by application, 2015 – 2021 (Kilo Tons)
7.3.5.4. UK green packaging market revenue, by application, 2015 – 2021 (USD Million)

7.3.6. France

7.3.6.1. France green packaging market volume, by type, 2015 – 2021 (Kilo Tons)
7.3.6.2. France green packaging market revenue, by type, 2015 – 2021 (USD Million)
7.3.6.3. France green packaging market volume, by application, 2015 – 2021 (Kilo Tons)
7.3.6.4. France green packaging market revenue, by application, 2015 – 2021 (USD Million)

7.3.7. Germany

7.3.7.1. Germany green packaging market volume, by type, 2015 – 2021 (Kilo Tons)
7.3.7.2. Germany green packaging market revenue, by type, 2015 – 2021 (USD Million)
7.3.7.3. Germany green packaging market volume, by application, 2015 – 2021 (Kilo Tons)
7.3.7.4. Germany green packaging market revenue, by application, 2015 – 2021 (USD Million)

7.4. Asia Pacific

7.4.1. Asia-Pacific green packaging market volume, by type, 2015 – 2021 (Kilo Tons)
7.4.2. Asia-Pacific green packaging market revenue, by type, 2015 – 2021 (USD Million)
7.4.3. Asia-Pacific green packaging market volume, by application, 2015 – 2021 (Kilo Tons)
7.4.4. Asia-Pacific green packaging market revenue, by application, 2015 – 2021 (USD Million)
7.4.5. China

7.4.5.1. China green packaging market volume, by type, 2015 – 2021 (Kilo Tons)
7.4.5.2. China green packaging market revenue, by type, 2015 – 2021 (USD Million)
7.4.5.3. China green packaging market volume, by application, 2015 – 2021 (Kilo Tons)
7.4.5.4. China green packaging market revenue, by application, 2015 – 2021 (USD Million)

7.4.6. Japan

7.4.6.1. Japan green packaging market volume, by type, 2015 – 2021 (Kilo Tons)
7.4.6.2. Japan green packaging market revenue, by type, 2015 – 2021 (USD Million)
7.4.6.3. Japan green packaging market volume, by application, 2015 – 2021 (Kilo Tons)
7.4.6.4. Japan green packaging market revenue, by application, 2015 – 2021 (USD Million)

7.4.7. India

7.4.7.1. India green packaging market volume, by type, 2015 – 2021 (Kilo Tons)
7.4.7.2. India green packaging market revenue, by type, 2015 – 2021 (USD Million)
7.4.7.3. India green packaging market volume, by application, 2015 – 2021 (Kilo Tons)
7.4.7.4. India green packaging market revenue, by application, 2015 – 2021 (USD Million)

7.5. Latin America

7.5.1. Latin America green packaging market volume, by type, 2015 – 2021 (Kilo Tons)
7.5.2. Latin America green packaging market revenue, by type, 2015 – 2021 (USD Million)
7.5.3. Latin America green packaging market volume, by application, 2015 – 2021 (Kilo Tons)
7.5.4. Latin America green packaging market revenue, by application, 2015 – 2021 (USD Million)
7.5.5. Brazil

7.5.5.1. Brazil green packaging market volume, by type, 2015 – 2021 (Kilo Tons)
7.5.5.2. Brazil green packaging market revenue, by type, 2015 – 2021 (USD Million)
7.5.5.3. Brazil green packaging market volume, by application, 2015 – 2021 (Kilo Tons)
7.5.5.4. Brazil green packaging market revenue, by application, 2015 – 2021 (USD Million)

7.6. Middle East & Africa

7.6.1. Middle East & Africa green packaging market volume, by type, 2015 – 2021 (Kilo Tons)
7.6.2. Middle East & Africa green packaging market revenue, by type, 2015 – 2021 (USD Million)
7.6.3. Middle East & Africa green packaging market volume, by application, 2015 – 2021 (Kilo Tons)
7.6.4. Middle East & Africa green packaging market revenue, by application, 2015 – 2021 (USD Million)

Chapter 8. Company Profiles

8.1. Amcor

8.1.1. Overview
8.1.2. Financials
8.1.3. Type portfolio
8.1.4. Business strategy
8.1.5. Recent developments

8.2. Berry Plastics

8.2.1. Overview
8.2.2. Financials
8.2.3. Type portfolio
8.2.4. Business strategy
8.2.5. Recent developments

8.3. BASF

8.3.1. Overview
8.3.2. Financials
8.3.3. Type portfolio
8.3.4. Business strategy
8.3.5. Recent developments

8.4. DuPont

8.4.1. Overview
8.4.2. Financials
8.4.3. Type portfolio
8.4.4. Business strategy
8.4.5. Recent developments

8.5. Printpack, Inc

8.5.1. Overview
8.5.2. Financials
8.5.3. Type portfolio
8.5.4. Business strategy
8.5.5. Recent developments

8.6. Innovia Films Ltd

8.6.1. Overview
8.6.2. Financials
8.6.3. Type portfolio
8.6.4. Business strategy
8.6.5. Recent developments

8.7. Bemis Company

8.7.1. Overview
8.7.2. Financials
8.7.3. Type portfolio
8.7.4. Business strategy
8.7.5. Recent developments

8.8. Tetra Laval

8.8.1. Overview
8.8.2. Financials
8.8.3. Type portfolio
8.8.4. Business strategy
8.8.5. Recent developments

8.9. Ball Corporation

8.9.1. Overview
8.9.2. Financials
8.9.3. Type portfolio
8.9.4. Business strategy
8.9.5. Recent developments

Chapter 9. Patents

9.1. U.S. (US Patents)
9.2. Europe (EP documents)
9.3. Japan (Abstracts of Japan)
9.4. Global (WIPO (PCT))
---
List of Figures
1. Global green packaging market segmentation by application, and geography
2. Global green packaging market, 2015 – 2021 (USD Million)
3. Value chain analysis: Green packaging market
4. Porter's five forces analysis: Green packaging market
5. Market attractiveness analysis by type segment
6. Market attractiveness analysis by application segment
7. Market attractiveness analysis by regional segment
8. Global Green packaging Market : Company Market Share, 2015
9. Price Trend Analysis : Green packaging
10. Patent trend between 2011 -2016
11. Patent Share by Company between 2011 – 2016
12. Patent Share by Region between 2011 – 2016
13. Global green packaging market share, by type, 2015 -2021
14. Global reusable packaging market, 2015 – 2021 (Kilo Tons)(USD Million)
15. Global recycled content packaging market, 2015 – 2021 (Kilo Tons)(USD Million)
16. Global degradable packaging market, 2015 – 2021 (Kilo Tons)(USD Million)
17. Global green packaging market share, by application, 2015 -2021
18. Global green packaging market for personal care, 2015 – 2021 (Kilo Tons)(USD Million)
19. Global green packaging market for food and beverages, 2015 – 2021 (Kilo Tons)(USD Million)
20. Global green packaging market for healthcare, 2015 – 2021 (Kilo Tons)(USD Million)
21. Global green packaging market for other applications, 2015 – 2021 (Kilo Tons) (USD Million)
22. Global green packaging market share, by region, 2015 – 2021
23. North America green packaging market, 2015 – 2021, (Kilo Tons) (USD Million)
24. U.S. green packaging market, 2015 – 2021, (Kilo Tons) (USD Million)
25. Europe green packaging market, 2015 – 2021, (Kilo Tons) (USD Million)
26. UK green packaging market, 2015 – 2021, (Kilo Tons) (USD Million)
27. France green packaging market, 2015 – 2021, (Kilo Tons) (USD Million)
28. Germany green packaging market, 2015 – 2021, (Kilo Tons) (USD Million)
29. Asia Pacific green packaging market, 2015 – 2021, (Kilo Tons) (USD Million)
30. China green packaging market, 2015 – 2021, (Kilo Tons) (USD Million)
31. Japan green packaging market, 2015 – 2021, (Kilo Tons)  (USD Million)
32. India green packaging market, 2015 – 2021, (Kilo Tons) (USD Million)
33. Latin America green packaging market, 2015-2021, (Kilo Tons) (USD Million)
34. Brazil green packaging market, 2015 – 2021, (Kilo Tons) (USD Million)
35. Middle East & Africa green packaging market, 2015 – 2021, (Kilo Tons) (USD Million)
---
List of Tables
1. Global green packaging market snapshot
2. Drivers for green packaging market: Impact analysis
3. Restraints of green packaging market: Impact analysis
4. North America green packaging market volume, by type, 2015 – 2021 (Kilo Tons)
5. North America green packaging market revenue, by type, 2015 – 2021 (USD Million)
6. North America green packaging market volume, by application, 2015 – 2021 (Kilo Tons)
7. North America green packaging market revenue, by application, 2015 – 2021 (USD Million)
8. U.S. green packaging market volume, by type, 2015 – 2021 (Kilo Tons)
9. U.S. green packaging market revenue, by type, 2015 – 2021 (USD Million)
10. U.S. green packaging market volume, by application, 2015 – 2021 (Kilo Tons)
11. U.S. green packaging market revenue, by application, 2015 – 2021 (USD Million)
12. Europe green packaging market volume, by type, 2015 – 2021 (Kilo Tons)
13. Europe green packaging market revenue, by type, 2015 – 2021 (USD Million)
14. Europe green packaging market volume, by application, 2015 – 2021 (Kilo Tons)
15. Europe green packaging market revenue, by application, 2015 – 2021 (USD Million)
16. UK green packaging market volume, by type, 2015 – 2021 (Kilo Tons)
17. UK green packaging market revenue, by type, 2015 – 2021 (USD Million)
18. UK green packaging market volume, by application, 2015 – 2021 (Kilo Tons)
19. UK green packaging market revenue, by application, 2015 – 2021 (USD Million)
20. France green packaging market volume, by type, 2015 – 2021 (Kilo Tons)
21. France green packaging market revenue, by type, 2015 – 2021 (USD Million)
22. France green packaging market volume, by application, 2015 – 2021 (Kilo Tons)
23. France green packaging market revenue, by application, 2015 – 2021 (USD Million)
24. Germany green packaging market volume, by type, 2015 – 2021 (Kilo Tons)
25. Germany green packaging market revenue, by type, 2015 – 2021 (USD Million)
26. Germany green packaging market volume, by application, 2015 – 2021 (Kilo Tons)
27. Germany green packaging market revenue, by application, 2015 – 2021 (USD Million)
28. Asia-Pacific green packaging market volume, by type, 2015 – 2021 (Kilo Tons)
29. Asia-Pacific green packaging market revenue, by type, 2015 – 2021 (USD Million)
30. Asia-Pacific green packaging market volume, by application, 2015 – 2021 (Kilo Tons)
31. Asia-Pacific green packaging market revenue, by application, 2015 – 2021 (USD Million)
32. China green packaging market volume, by type, 2015 – 2021 (Kilo Tons)
33. China green packaging market revenue, by type, 2015 – 2021 (USD Million)
34. China green packaging market volume, by application, 2015 – 2021 (Kilo Tons)
35. China green packaging market revenue, by application, 2015 – 2021 (USD Million)
36. Japan green packaging market volume, by type, 2015 – 2021 (Kilo Tons)
37. Japan green packaging market revenue, by type, 2015 – 2021 (USD Million)
38. Japan green packaging market volume, by application, 2015 – 2021 (Kilo Tons)
39. Japan green packaging market revenue, by application, 2015 – 2021 (USD Million)
40. India green packaging market volume, by type, 2015 – 2021 (Kilo Tons)
41. India green packaging market revenue, by type, 2015 – 2021 (USD Million)
42. India green packaging market volume, by application, 2015 – 2021 (Kilo Tons)
43. India green packaging market revenue, by application, 2015 – 2021 (USD Million)
44. Latin America green packaging market volume, by type, 2015 – 2021 (Kilo Tons)
45. Latin America green packaging market revenue, by type, 2015 – 2021 (USD Million)
46. Latin America green packaging market volume, by application, 2015 – 2021 (Kilo Tons)
47. Latin America green packaging market revenue, by application, 2015 – 2021 (USD Million)
48. Brazil green packaging market volume, by type, 2015 – 2021 (Kilo Tons)
49. Brazil green packaging market revenue, by type, 2015 – 2021 (USD Million)
50. Brazil green packaging market volume, by application, 2015 – 2021 (Kilo Tons)
51. Brazil green packaging market revenue, by application, 2015 – 2021 (USD Million)
52. Middle East & Africa green packaging market volume, by type, 2015 – 2021 (Kilo Tons)
53. Middle East & Africa green packaging market revenue, by type, 2015 – 2021 (USD Million)
54. Middle East & Africa green packaging market volume, by application, 2015 – 2021 (Kilo Tons)
55. Middle East & Africa green packaging market revenue, by application, 2015 – 2021 (USD Million)