According to the report, global palm oil market was valued at USD 65.73 billion in 2015, is expected to reach USD 92.84 billion in 2021 and is anticipated to grow at a CAGR of 7.2% between 2016 and 2021.Palm oil is an economically important and versatile vegetable oil used as a raw material for both food and nonfood products. Palm oil is most widely used vegetable oil in the world and is found in supermarkets ranging from sweets, baked goods, margarine, cereals, washing powders and cosmetics. Palm oil is also used as a first-generation biofuel. It is also used in preventing vitamin A deficiency, cancer, brain disease, aging; and treating malaria, high blood pressure, high cholesterol, and cyanide poisoning. Most palm oil is produced in Asia, Africa, and South America because the trees require warm temperatures, sunlight and plenty of rain in order to maximize crop production.
According to the report, global palm oil market was valued at USD 65.73 billion in 2015, is expected to reach USD 92.84 billion in 2021 and is anticipated to grow at a CAGR of 7.2% between 2016 and 2021.
Palm oil is one of the major edible vegetable oils consumed globally. Palm oil is high in saturated fats and free of trans-fats. Palm oil and its derivatives are used in the manufacture of prepackaged food, cleaning products, hair care, cosmetics, and personal care products. Palm wax is utilized in the manufacturing of candles. It is also used as feed for livestock known as palm kernel cake (PKC) which is a byproduct of palm kernel oil. It considered as a medium grade protein feed used to fatten livestock's.
Palm oil has a longer shelf life as it does not become easily rancid. It is also high in carotenoid which is a rich source of vitamin A.  Red palm oil has seventeen times more carotenoid than carrots. Indonesia and Malaysia produce approximately 85% of the world's palm oil. Other potential producer countries include Thailand, Columbia, Nigeria, Papua New Guinea and Ecuador.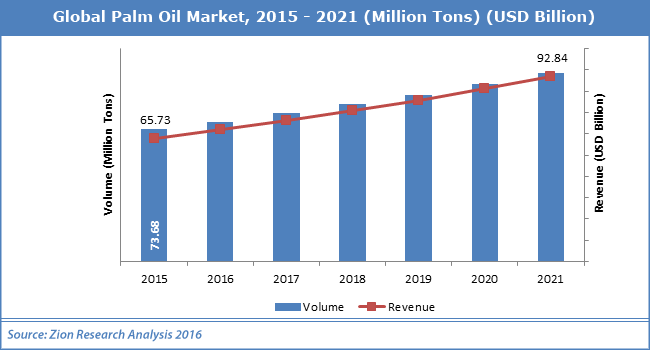 The palm oil market has grown at a rapid pace over the past few years and is witness stupendous growth during the forecast period. The market for palm oil is driven by a number of factors, such as growing demand for biofuels, rising global population, and growing economy. Furthermore, growing consumer preference for convenient packaging processes and increasing demand from pharmaceutical industry is also expected to fuel the market. However, the development of market may hamper by adverse weather conditions and price fluctuation in the forecast period.
Global palm market has been segmented on the basis of derivative, application and region. On the basis of derivative, palm oil market is classified into crude palm oil, palm kernel oil, palm kernel cake, and others. Crude palm oil segment dominated the overall market in 2015 owing to growing applications such as edible oil, surfactants, biodiesel, cosmetics and lubricants. Palm kernel cakes are mainly used in livestock feed industry. On the basis of applications, market is characterized into edible oil, cosmetics, biodiesel, lubricants, surfactants and other applications. Edible oil is the leading application segment and acquired the significant share in overall palm oil market in 2015.
Geographically, palm oil market can be segmented into North America, Europe, Asia-Pacific, Latin America, Middle East and Africa. Asia Pacific palm oil market dominated the overall market in 2015 due to high demand from food applications and other industrial uses. Asia Pacific is also expected to be the fastest growing regional segment owing to growing population, growing disposable income and increasing palm oil applications inedible and nonedible applications. Latin America and the Middle East & Africa are expected to witness brisk growth in areas such as food applications and other industrial uses. Major companies are expected to invest in these regions due to their favorable climatic conditions and available arable land. Malaysia and Indonesia palm oil industry currently lead the worldwide production circumstances.
Key players in palm oil market are Cargill Inc., United Palm Oil Industry Public Company Limited, Wilmar International Limited, Sime Darby, Golden Agri Resources Limited, Godrej Agrovet Limited, PT Astra Agro Lestari Tbk, IOI Corp., London Sumatra, Kulim Bhd, Musim Mas Group, Alami Group and ADM.
Chapter 1. Introduction

1.1. Report description
1.2. Market segmentation

1.2.1. Global palm oil market segmentation

1.3. Research methodology
1.4. Abbreviations

Chapter 2. Executive Summary

2.1. Global palm oil market, 2015 – 2021 (Million Tons) (USD Billion)
2.2. Palm oil: Market snapshot (2015 and 2021)

Chapter 3. Palm oil– Global Analysis

3.1. Palm Oil: Market dynamics
3.2. Market drivers

3.2.1. Rising demand for biofuels
3.2.2. Improving economic conditions
3.2.3. Low price of palm oil than other vegetable oils

3.3. Market restraints

3.3.1. Adverse weather conditions and price fluctuation

3.4. Market opportunities

3.4.1. Increasing market penetration by major producing countries such as Indonesia, Malaysia, and Thailand

3.5. Porter's five force analysis
3.6. Palm oil: Market attractiveness analysis

Chapter 4. Palm oil Market: Competitive Landscape (Subject to data availability)

4.1. Company market share analysis, 2015

4.1.1. Global Palm Oil Market: Company Market Share, 2015

4.2. Strategic development

4.2.1. Acquisitions & Mergers
4.2.2. New Product Launch
4.2.3. Agreements, Partnerships, Collaborations and Joint Ventures
4.2.4. Research and Development, Product and Regional Expansion

Chapter 5. Global Palm Oil Market – Derivative Analysis

5.1. Global palm oil market: derivative overview

5.1.1. Global palm oil market revenue share, by derivative, 2015 – 2021

5.2. Crude Palm Oil

5.2.1. Global crude palm oils market, 2015 – 2021 (Million Tons)(USD Billion)

5.3. Palm Kernel Oil

5.3.1. Global palm kernel oil market, 2015 – 2021 (Million Tons)(USD Billion)

5.4. Palm Kernel Cake

5.4.1. Global palm kernel cake market, 2015 – 2021 (Million Tons)(USD Billion)

5.5. Others

5.5.1. Global other derivative market, 2015 – 2021 (Million Tons)(USD Billion)

Chapter 6. Global Palm oil Market – Applications Analysis

6.1. Global palm oil market: application overview

6.1.1. Global palm oil market revenue share, by application, 2015 – 2021

6.2. Edible Oil

6.2.1. Global palm oil market, for edible oil, 2015 – 2021 (Million Tons)(USD Billion)

6.3. Cosmetics

6.3.1. Global palm oil market, for cosmetics, 2015 – 2021 (Million Tons)(USD Billion)

6.4. Bio-diesel

6.4.1. Global palm oil market, for bio-diesel, 2015 – 2021 (Million Tons)(USD Billion)

6.5. Lubricants

6.5.1. Global palm oil market, for lubricants, 2015 – 2021 (Million Tons)(USD Billion)

6.6. Surfactants

6.6.1. Global palm oil market, for surfactants, 2015 – 2021 (Million Tons)(USD Billion)

6.7. Others

6.7.1. Global palm oil market, for other application, 2015 – 2021 (Million Tons)(USD Billion)

Chapter 7. Global Palm oil market – Regional Analysis

7.1. Global palm oil market: Regional overview

7.1.1. Global palm oil market revenue share by region, 2015 – 2021

7.2. North America

7.2.1. North America palm oil market volume, by derivative, 2015 – 2021 (Million Tons)
7.2.2. North America palm oil market volume, by application, 2015 – 2021 (Million Tons)
7.2.3. North America palm oil market revenue, by derivative, 2015 – 2021 (USD Billion)
7.2.4. North America palm oil market revenue, by application, 2015 – 2021 (USD Billion)

7.3. Europe

7.3.1. Europe palm oil market volume, by a derivative, 2015 – 2021 (Million Tons)
7.3.2. Europe palm oil market volume, by application, 2015 – 2021 (Million Tons
7.3.3. Europe palm oil market revenue, by a derivative, 2015 – 2021 (USD Billion)
7.3.4. Europe palm oil market revenue, by application, 2015 – 2021 (USD Billion)

7.4. Asia Pacific

7.4.1. Asia Pacific palm oil market volume, by derivative, 2015 – 2021 (Million Tons)
7.4.2. Asia Pacific palm oil market volume, by application, 2015 – 2021 (Million Tons)
7.4.3. Asia Pacific palm oil market revenue, by derivative, 2015 – 2021 (USD Billion)
7.4.4. Asia Pacific palm oil market revenue, by application, 2015 – 2021 (USD Billion)

7.5. Latin America

7.5.1. Latin America palm oil market volume, by derivative, 2015 – 2021 (Million Tons)
7.5.2. Latin America palm oil market volume, by application, 2015 – 2021 (Million Tons)
7.5.3. Latin America palm oil market revenue, by derivative, 2015 – 2021 (USD Billion)
7.5.4. Latin America palm oil market revenue, by application, 2015 – 2021 (USD Billion)

7.6. Middle East and Africa

7.6.1. Middle East and Africa palm oil market volume, by derivative, 2015 – 2021 (Million Tons)
7.6.2. Middle East and Africa palm oil market volume, by application, 2015 – 2021 (Million Tons)
7.6.3. Middle East and Africa palm oil market revenue, by derivative, 2015 – 2021 (USD Billion)
7.6.4. Middle East and Africa palm oil market revenue, by application, 2015 – 2021 (USD Billion)

Chapter 8. Company Profiles

8.1. Cargill Inc.

8.1.1. Overview
8.1.2. Financials
8.1.3. Product Portfolio
8.1.4. Business Strategy
8.1.5. Recent Development

8.2. United Palm Oil Industry Public Company Limited

8.2.1. Overview
8.2.2. Financials
8.2.3. Product Portfolio
8.2.4. Business Strategy
8.2.5. Recent Development

8.3. Wilmar International Limited

8.3.1. Overview
8.3.2. Financials
8.3.3. Product Portfolio
8.3.4. Business Strategy
8.3.5. Recent Development

8.4. Sime Darby

8.4.1. Overview
8.4.2. Financials
8.4.3. Product Portfolio
8.4.4. Business Strategy
8.4.5. Recent Development

8.5. Golden Agri Resources Limited

8.5.1. Overview
8.5.2. Financials
8.5.3. Product Portfolio
8.5.4. Business Strategy
8.5.5. Recent Development

8.6. Godrej Agrovet Limited

8.6.1. Overview
8.6.2. Financials
8.6.3. Product Portfolio
8.6.4. Business Strategy
8.6.5. Recent Development

8.7. PT Astra Agro Lestari Tbk

8.7.1. Overview
8.7.2. Financials
8.7.3. Product Portfolio
8.7.4. Business Strategy
8.7.5. Recent Development

8.8. IOI Corp.

8.8.1. Overview
8.8.2. Financials
8.8.3. Product Portfolio
8.8.4. Business Strategy
8.8.5. Recent Development

8.9. London Sumatra

8.9.1. Overview
8.9.2. Financials
8.9.3. Product Portfolio
8.9.4. Business Strategy
8.9.5. Recent Development

8.10. Kulim BHD

8.10.1. Overview
8.10.2. Financials
8.10.3. Product Portfolio
8.10.4. Business Strategy
8.10.5. Recent Development

8.11. Musim Mas Group

8.11.1. Overview
8.11.2. Financials
8.11.3. Product Portfolio
8.11.4. Business Strategy
8.11.5. Recent Development

8.12. Alami Group

8.12.1. Overview
8.12.2. Financials
8.12.3. Product Portfolio
8.12.4. Business Strategy
8.12.5. Recent Development

Chapter 9.1. ADM

9.1.1. Overview
9.1.2. Financials
9.1.3. Product Portfolio
9.1.4. Business Strategy
9.1.5. Recent Development
---
List of Figures
1. Global palm oil market segmentation by derivative, application, and geography
2. Global palm oil market, 2015 – 2021 (Million Tons)(USD Billion)
3. Porter's five forces analysis: palm oil market
4. Market attractiveness analysis by derivative segment
5. Market attractiveness analysis by application segment
6. Market attractiveness analysis by regional segment
7. Global palm oil market : company market share, 2015
8. Price Trend Analysis : Palm oil Market
9. Global palm oil market share, by derivative, 2015 -2021
10. Global palm oil market by crude palm oil, 2015 – 2021 (Million Tons)(USD Billion)
11. Global palm oil market by palm kernel oil, 2015 – 2021 (Million Tons)(USD Billion)
12. Global palm oil market by palm kernel cake, 2015 – 2021 (Million Tons)(USD Billion)
13. Global palm oil market by other derivative, 2015 – 2021 (Million Tons)(USD Billion)
14. Global palm oil market share, by application,2015 -2021
15. Global palm oil market for edible oil, 2015 – 2021 (Million Tons)(USD Billion)
16. Global palm oil market for cosmetics, 2015 – 2021 (Million Tons)(USD Billion)
17. Global palm oil market for bio-diesel, 2015 – 2021 (Million Tons)(USD Billion)
18. Global palm oil market for lubricants, 2015 – 2021 (Million Tons)(USD Billion)
19. Global palm oil market for surfactants, 2015 – 2021 (Million Tons)(USD Billion)
20. Global palm oil market for others, 2015 – 2021 (Million Tons)(USD Billion)
21. Global palm oil market share, by region, 2015 – 2021
22. North America palm oil market, 2015 – 2021, (Million Tons)(USD Billion)
23. Europe palm oil market, 2015 – 2021, (Million Tons)(USD Billion)
24. Asia Pacific palm oil market, 2015 – 2021, (Million Tons)(USD Billion)
25. Latin America palm oil market, 2015-2021, (Million Tons)(USD Billion)
26. Middle East & Africa palm oil market, 2015 – 2021, (Million Tons)(USD Billion)
---
List of Tables
1. Palm oil: Global snapshot
2. Drivers for palm oil market: Impact analysis
3. Restraints for palm oil market: Impact analysis
4. North America palm oil market revenue, by derivative, 2015 – 2021 (Million Tons)(USD Billion)
5. North America palm oil market revenue, by application, 2015 – 2021 (Million Tons)(USD Billion)
6. Europe palm oil market revenue, by derivative, 2015 – 2021 (Million Tons) (USD Billion)
7. Europe palm oil market revenue, by application, 2015 – 2021 (Million Tons) (USD Billion)
8. Asia Pacific palm oil market revenue, by derivative, 2015 – 2021  (Million Tons) (USD Billion)
9. Asia Pacific palm oil market revenue, by application, 2015 – 2021 (Million Tons) (USD Billion)
10. Latin America palm oil market revenue, by derivative, 2015 – 2021  (Million Tons) (USD Billion)
11. Latin America palm oil market revenue, by application, 2015 – 2021 (Million Tons) (USD Billion)
12. Middle East and Africa palm oil market revenue, by derivative, 2015 – 2021  (Million Tons) (USD Billion)
13. Middle East and Africa palm oil market revenue, by application, 2015 – 2021  (Million Tons) (USD Billion)