According to the report, the global savory snacks market accounted for USD 94.5 Billion in 2015 and is expected to reach USD 108.5 Billion by 2021, growing at a CAGR of around 2.33% between 2016 and 2021. Savory snack is a salty food which is smaller than a regular meal. Usually, savory snack is eaten between meals. From past few years, snacks consumption trend have been changed. Consumers prefer more healthy snacks than the fried one.
[wptab name='Report Description' active="1″ ]
According to the report, the global savory snacks market accounted for USD 94.5 Billion in 2015 and is expected to reach USD 108.5 Billion by 2021, growing at a CAGR of around 2.33% between 2016 and 2021.
Savoriness is a quality of food that deals with a rich, salty flavor. Savory snacks include potato chips, nachos, and tacos. Ingredients used in savory snacks include potatoes, corn, nuts, seeds, wheat, rice, tapioca, and oats. Generally, savory snacks are eaten between meals as breakfast items, after-dinner snacks, and food items at social gatherings and celebrations A large expatriate population from multi-cultural and various socio-economic backgrounds in Asia Pacific and Latin America and the Middle East & Africa is expected to make the savory snacks market highly dynamic and rapidly evolving in the next few years. The savory snacks market is forecast to grow at a robust rate wherein the introduction of premium and indulgent savory snacks is the key motivating factor for the global population.
There has been the growing demand for the healthy snack is increasing day by day. Hence, manufacturer's response towards the consumers demand healthy and fat-free snacks have been increasing. The developing taste preference is the key driver of savory snacks market growth. Owing to rising health concerns, manufacturers have switched their manufacturing methods and content in their snacks. This resulted in low salt content in baked and crispy snacks instead of fried. These changes from manufacturers according to the consumer demand are expected to drive the market in next future years. In addition, increasing urbanization and busy lifestyles are impacting the consumer eating habits. Consumers are gradually replacing main meals with more light, flexible and convenient snacking options. This, in turn, is expected to fuel the market for savory snacks over the years. However, the high cost of these snacks is one of the factors which may restrain the savory snacks market growth in the near future. Furthermore, the growing hypermarkets and supermarkets in the developing economies may boost growth opportunities for the savory snacks market.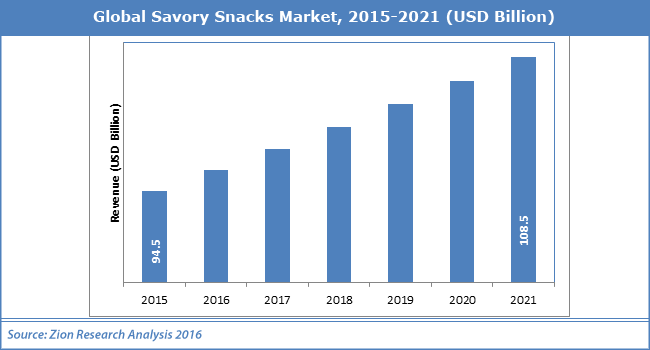 Savory snacks can be segmented into extruded snacks, nuts & seeds, popcorn, pretzels, meat snacks, traditional snacks, potato chips and other types of snacks. Potato chips have been the leading product segment over the past few years and this trend is projected to be continued over the forecast period. Traditional snacks segment is expected to witness strong growth in the coming future due to new innovations in flavors and tastes. Extruded snack is also one of the major product segments of the savory snack market and expected to grow rapidly due to consumers increasing preference towards it.
North America emerged as the leading regional market for savory snacks in 2015 and this trend is projected to continue in the future. Rising trend of consuming snacks during working hours and between main meals in the U.S. is a major factor which is driving the market growth in this region. North America was followed by Europe in 2015. In Asia Pacific region, savory snacks market is likely to witness significant growth over the next few years on account of growing disposable income of consumers in emerging economies such as China and India. In addition, changing the life style of consumers and impact of westernization on Indian culture is further expected to drive the savory snacks market in this region. Latin America and the Middle East markets are also expected to grow significantly due to consumer preference towards in between meal snacks.
Some of the main companies operating in global savory snack market are PepsiCo Inc., AVI Limited, H.W. Lay and Co, Want Want Holdings Limited, Frito-Lay, Kellogg Company, Calbee, Bourbon Corporation,  Kraft Foods, Chio Chips, Estrella, General Mills, Greendot Health Foods Ltd, Haldiram`s, Amanoya Kabuki, Kameda,  and Tyrrells among others.
[/wptab]
[wptab name='Table of content']
Chapter 1. Introduction

1.1. Report Description and Scope
1.2. Research Scope
1.3. Research Methodology

1.3.1. Market Research Process
1.3.2. Market Research Methodology

Chapter 2. Executive Summary

2.1. Global Savory Snacks Market, 2015 – 2021 (USD Billion)
2.2. Global Savory Snacks Market: Snapshot

Chapter 3. Savory Snacks – Market Dynamics

3.1. Introduction
3.2. Value Chain Analysis
3.3. Market Drivers

3.3.1. Global Savory Snacks Market Drivers: Impact Analysis
3.3.2. Growing preferences regarding taste

3.4. Market Restraints

3.4.1. Global Savory Snacks Market Restraints: Impact Analysis
3.4.2. Global assortment and distribution.

3.5. Opportunities

3.5.1. Major potential customer base

3.6. Porter's Five Forces Analysis

3.6.1. Bargaining Power Of Suppliers
3.6.2. Bargaining Power Of Buyers
3.6.3. Threat From New Entrants
3.6.4. Threat From New Substitutes
3.6.5. Degree Of Competition

3.7. Market Attractiveness Analysis

3.7.1. Market Attractiveness Analysis, By Product Segment
3.7.2. Market Attractiveness Analysis, By Regional Segment

Chapter 4. Global Savory Snacks Market – Competitive Landscape

4.1. Company Market Share, 2015 (Subject to Data Availability)
4.2. Strategic Development

4.2.1. Acquisitions & Mergers
4.2.2. New Type Launch
4.2.3. Agreements, Partnerships, Collaborations and Joint Ventures
4.2.4. Research and Development, Type and Regional Expansion

4.3. Type Portfolio
4.4. Patent Analysis (2011-2016)

4.4.1. Patent Trend
4.4.2. Patent Share By Company
4.4.3. By Region

Chapter 5. Global Savory Snacks Market – Production Segment Analysis

5.1. Global Savory Snacks Market: Product Segment Overview

5.1.1. Global Savory Snacks Market Revenue Share, by Product Segment, 2015 And 2021

5.2. Potato Chips

5.2.1. Global Potato Chips Savory Snacks Market, 2015 – 2021 (USD Billion)

5.3. Extruded Snacks

5.3.1. Global Extruded Snacks Savory Snacks Market, 2015 – 2021 (USD Billion)

5.4. Nuts and Seeds

5.4.1. Global Nuts and Seeds Savory Snacks Market, 2015 – 2021 (USD Billion)

5.5. Traditional Snacks

5.5.1. Global Traditional Snacks Savory Snacks Market, 2015 – 2021 (USD Billion)

5.6. Popcorn

5.6.1. Global Popcorn Savory Snacks Market, 2015 – 2021 (USD Billion)

5.7. Pretzels

5.7.1. Global Pretzels Savory Snacks Market, 2015 – 2021 (USD Billion)

5.8. Meat Snacks

5.8.1. Global Meat Snacks Savory Snacks Market, 2015 – 2021 (USD Billion)

Chapter 6. Global Savory Snacks Market – Regional Segment Analysis

6.1. Global savory snacks market: Regional overview

6.1.1. Global Savory Snacks Market Revenue Share by Region, 2015 – 2021

6.2. North America

6.2.1. North America Savory Snacks Market Revenue, by Product, 2015 – 2021 (USD Billion)
6.2.2. U.S.

6.2.2.1. U.S. Savory Snacks Market Revenue, by Product, 2015 – 2021 (USD Billion)

6.3. Europe

6.3.1. Europe Savory Snacks Market Revenue, by Product, 2015 – 2021 (USD Billion)
6.3.2. Germany

6.3.2.1. Germany Savory Snacks Market Revenue, by Product, 2015 – 2021 (USD Billion)

6.3.3. France

6.3.3.1. France Savory Snacks Market Revenue, by Product, 2015 – 2021 (USD Billion)

6.3.4. UK

6.3.4.1. UK Savory Snacks Market Revenue, by Product, 2015 – 2021 (USD Billion)

6.4. Asia Pacific

6.4.1. Asia Pacific Savory Snacks Market Revenue, by Product, 2015 – 2021 (USD Billion)
6.4.2. China

6.4.2.1. China Savory Snacks Market Revenue, by Product, 2015 – 2021 (USD Billion)

6.4.3. Japan

6.4.3.1. Japan Savory Snacks Market Revenue, by Product, 2015 – 2021 (USD Billion)

6.4.4. India

6.4.4.1. India Savory Snacks Market Revenue, by Product, 2015 – 2021 (USD Billion)

6.5. Latin America

6.5.1. Latin America Savory Snacks Market Revenue, by Product, 2015 – 2021 (USD Billion)
6.5.2. Brazil

6.5.2.1. Brazil Savory Snacks Market Revenue, by Product, 2015 – 2021 (USD Billion)

6.6. Middle East and Africa

6.6.1. Middle East and Africa Savory Snacks Market Revenue, by Product, 2015 – 2021 (USD Billion)

Chapter 7. Company Profile

7.1. PepsiCo Inc.,

7.1.1. Overview
7.1.2. Financials
7.1.3. Type Portfolio
7.1.4. Business Strategy
7.1.5. Recent Developments

7.2. AVI Limited,

7.2.1. Overview
7.2.2. Financials
7.2.3. Type Portfolio
7.2.4. Business Strategy
7.2.5. Recent Developments

7.3. H.W. Lay and Co,

7.3.1. Overview
7.3.2. Financials
7.3.3. Type Portfolio
7.3.4. Business Strategy
7.3.5. Recent Developments

7.4. Want Want Holdings Limited,

7.4.1. Overview
7.4.2. Financials
7.4.3. Type Portfolio
7.4.4. Business Strategy
7.4.5. Recent Developments

7.5. Frito-Lay.,

7.5.1. Overview
7.5.2. Financials
7.5.3. Type Portfolio
7.5.4. Business Strategy
7.5.5. Recent Developments

7.6. Kellogg Company,

7.6.1. Overview
7.6.2. Financials
7.6.3. Type Portfolio
7.6.4. Business Strategy
7.6.5. Recent Developments

7.7. Calbee,

7.7.1. Overview
7.7.2. Financials
7.7.3. Type Portfolio
7.7.4. Business Strategy
7.7.5. Recent Developments

7.8. Bourbon Corporation,

7.8.1. Overview
7.8.2. Financials
7.8.3. Type Portfolio
7.8.4. Business Strategy
7.8.5. Recent Developments

7.9. Kraft Foods,

7.9.1. Overview
7.9.2. Financials
7.9.3. Type Portfolio
7.9.4. Business Strategy
7.9.5. Recent Developments

7.10. Chio Chips,

7.10.1. Overview
7.10.2. Financials
7.10.3. Type Portfolio
7.10.4. Business Strategy
7.10.5. Recent Developments

7.11. Estrella,

7.11.1. Overview
7.11.2. Financials
7.11.3. Type Portfolio
7.11.4. Business Strategy
7.11.5. Recent Developments

7.12. General Mills,

7.12.1. Overview
7.12.2. Financials
7.12.3. Type Portfolio
7.12.4. Business Strategy
7.12.5. Recent Developments

7.13. Greendot Health Foods Ltd,

7.13.1. Overview
7.13.2. Financials
7.13.3. Type Portfolio
7.13.4. Business Strategy
7.13.5. Recent Developments

7.14. Haldiram`s,

7.14.1. Overview
7.14.2. Financials
7.14.3. Type Portfolio
7.14.4. Business Strategy
7.14.5. Recent Developments

7.15. Amanoya Kabuki,

7.15.1. Overview
7.15.2. Financials
7.15.3. Type Portfolio
7.15.4. Business Strategy
7.15.5. Recent Developments

7.16. Kameda,

7.16.1. Overview
7.16.2. Financials
7.16.3. Type Portfolio
7.16.4. Business Strategy
7.16.5. Recent Developments

7.17. Tyrrells,

7.17.1. Overview
7.17.2. Financials
7.17.3. Type Portfolio
7.17.4. Business Strategy
7.17.5. Recent Developments

Chapter 8. Patents

8.1. U.S. (US Patents)
8.2. Europe (EP documents)
8.3. Japan (Abstracts of Japan)
8.4. Global (WIPO (PCT)
---
List of Figures
1. Market Research Process
2. Market Research Methodology
3. Global Savory Snacks Market Revenue, 2015 – 2021 (USD Billion)
4. Porter's Five Forces Analysis
5. Savory Snacks: Market Attractiveness Analysis, by Product Segment
6. Savory Snacks : Market Attractiveness Analysis, by Regional Segment
7. Company Market Share Analysis, 2015 And 2021
8. Potato Chips Savory Snacks Market, 2015 – 2021, (USD Billion)
9. Extruded Snacks Savory Snacks Market, 2015 – 2021, (USD Billion)
10. Nuts and Seeds Savory Snacks Market, 2015 – 2021, (USD Billion)
11. Traditional Snacks Savory Snacks Market, 2015 – 2021, (USD Billion)
12. Popcorn Savory Snacks Market, 2015 – 2021, (USD Billion)
13. Pretzels Savory Snacks Market, 2015 – 2021, (USD Billion)
14. Global Savory Snacks Market Share, by Region, 2015 – 2021
15. North America Savory Snacks Market, 2015 – 2021, (USD Billion)
16. Europe Savory Snacks Market, 2015 – 2021, (USD Billion)
17. Asia Pacific Savory Snacks Market, 2015 – 2021, (USD Billion)
18. Latin America Savory Snacks Market, 2015-2021, (USD Billion)
19. Middle East & Africa Savory Snacks Market, 2015 – 2021, (USD Billion)
---
List of Tables
1. Global Savory Snacks Market estimates and forecast, 2015 – 2021 (USD Billion)
2. Global Savory Snacks Market, by Region, 2015 – 2021 (USD Billion)
3. Global Savory Snacks Market, by Product, 2015 – 2021 (USD Billion)
4. Savory Snacks – Key Market Driver Analysis
5. Savory Snacks – Key Market Restraint Analysis
6. North America Savory Snacks Market Revenue, by Product, 2015 – 2021 (USD Billion)
7. U.S. Savory Snacks Market Revenue, by Product, 2015 – 2021 (USD Billion)
8. Europe Savory Snacks Market Revenue, by Product, 2015 – 2021 (USD Billion)
9. Germany Savory Snacks Market Revenue, by Product, 2015 – 2021 (USD Billion)
10. France Savory Snacks Market Revenue, by Product, 2015 – 2021 (USD Billion)
11. UK Savory Snacks Market Revenue, by Product, 2015 – 2021 (USD Billion)
12. Asia Pacific Savory Snacks Market Revenue, by Product, 2015 – 2021 (USD Billion)
13. China Savory Snacks Market Revenue, by Product, 2015 – 2021 (USD Billion)
14. Japan Savory Snacks Market Revenue, by Product, 2015 – 2021 (USD Billion)
15. India Savory Snacks Market Revenue, by Product, 2015 – 2021 (USD Billion)
16. Latin America Savory Snacks Market Revenue, by Product, 2015 – 2021 (USD Billion)
17. Brazil Savory Snacks Market Revenue, by Product, 2015 – 2021 (USD Billion)
18. Middle East and Africa Savory Snacks Market Revenue, by Product, 2015 – 2021 (USD Billion)
[/wptab]
[wptab name='Request For Sample']
[/wptab]
[end_wptabset]