According to the report, demand for Brazil biomaterials market in was valued at over USD1.89 billion in 2016, is expected to reach above USD 5.18 billion in 2022 and is anticipated to grow at a CAGR of slightly above 18.30% between 2017 and 2022.Biomaterials are synthetic, natural, solid or liquid, which are mainly used in medical devices, biological systems.In recent times, biomaterials are also used to grow cells in culture, processing bimolecular in biotechnology, bio-inert to assay for blood proteins in the clinical laboratory, for fertility regulation implants in cattle, in diagnostic gene arrays. Biomaterials are also used in the aquaculture of oysters and for investigational cell-silicon "biochips."
[wptab name='Report Description' active="1″ ]
According to the report, demand for Brazil biomaterials market in was valued at over USD1.89 billion in 2016, is expected to reach above USD 5.18 billion in 2022 and is anticipated to grow at a CAGR of slightly above 18.30% between 2017 and 2022.
The biomaterial is any material which has been engineered to help the biological systems for a therapeutic or diagnostic purpose. The biomaterial is a nonviable material used in medical devices, intended to interact with biological systems. Biomaterials possess biocompatibility i.e. ability of a material to perform an appropriate host response in the specific application. Rapidly growing healthcare sector in Brazil is expected to drive the biomaterials market in this region.
Biomaterials find applications in various products such as skin repair, contact lenses, blood vessel prosthesis, drug delivery, gene transfer and dental.This factor is expected to amplify the biomaterial market in the coming years. Moreover, the high prevalence of diseases owing to the sharp rise in the discretional income has led to the unhealthy lifestyle which is expected to assist the biomaterials market growth within the forecast period. Growing fad towards western food has led to high incidence of cardiovascular disease; this factor may trigger the growth of biomaterial market in upcoming years.Nevertheless, ongoing intense research & development for introducing innovative and a bio-inert material is likely to optimize the growth of the biomaterials market in upcoming years.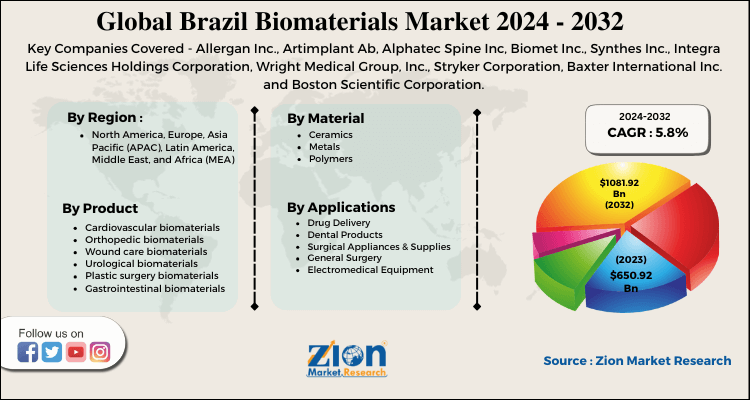 On the basis of product, the biomaterials market can be segmented cardiovascular biomaterials, orthopedic biomaterials, wound care biomaterials, urological biomaterials plastic surgery biomaterials and gastrointestinal biomaterials. Cardiovascular biomaterials consist of vascular access devices, cardiac stents, artificial heart valves, peripheral vascular grafts, cardiac pacemakers and implantable cardioverter defibrillators. The orthopedic includes sub-segments such as implantable cardioverter defibrillators, trauma orthopedic biomaterials, trauma orthopedic biomaterials, bone cement, ortho biologics biomaterials, and reconstructive biomaterials. Orthopedic biomaterials segment is gaining huge importance in the recent times owing to high product penetration and ease to use.  Based on the material used, the biomaterials can be segmented as ceramics, metals, and polymers. Metals account for the highest market share as compared to ceramics and polymers, owing to diverse properties of metals and their high biocompatibility. Ceramics are generally used up in dental products and are expected to emerge as a potent segment in the coming years. Polymers are also expected to exhibit huge growth in the coming years owing to various innovations in the polymer industry. Biomaterials are mainly used in applications such as drug delivery, dental products, surgical appliances & supplies, general surgery, electromedical equipment and other applications.
Brazil is witnessing an unprecedented boom in recent times and is expected to fortify the biomaterials market in near future. There has been a sharp rise in the occurrence of various cardiovascular diseases along with the growing aging population which is accelerating the growth of biomaterials in this region. Growing demand for junk food owing to hectic lifestyle has led to high rate of diseases this factor expected to foster the demand for biomaterials market in Brazil.
Some of the global major players in the biomaterials market are Allergan Inc., Artimplant Ab, Alphatec Spine Inc, Biomet Inc., Synthes Inc., Integra Life Sciences Holdings Corporation, Wright Medical Group, Inc., Stryker Corporation, Baxter International Inc. and Boston Scientific Corporation. The presence of various vendors in the Brazil market forces the players to focus on the product development to sustain in the biomaterials market.
[/wptab]
[wptab name='Table of content']
Chapter 1. Introduction

1.1. Report description and scope
1.2. Research scope
1.3. Research methodology

1.3.1. Market research process
1.3.2. Market research methodology

Chapter 2. Executive Summary

2.1. Brazil market revenue, 2016- 2022 (USD Billion)
2.2. Brazil biomaterial market: Snapshot

Chapter 3. Biomaterial Market – Brazil and Industry Analysis

3.1. Biomaterial : Market dynamics
3.2. Market drivers

3.2.1. Drivers of Brazil biomaterial market: Impact analysis
3.2.2. Growing aging population

3.3. Market restraints

3.3.1. Restraints of Brazil biomaterial market: Impact analysis

3.4. Opportunities

3.4.1. Introduction of innovative bio inert materials

3.5. Porter's five forces analysis
3.6. Market Attractiveness Analysis

3.6.1. Market attractiveness analysis by product segment
3.6.2. Market attractiveness analysis by material segment
3.6.3. Market attractiveness analysis by application segment

Chapter 4. Brazil Biomaterial Market – Competitive Landscape

4.1. Company market share, 2016(Subject to Data Availability)

4.1.1. Brazil biomaterial market : company market share, 2016

4.2. Strategic Development

4.2.1. Acquisitions & Mergers
4.2.2. New Product Launch
4.2.3. Agreements, Partnerships, Collaborations and Joint Ventures
4.2.4. Research and Development, Product and Regional Expansion

Chapter 5. Brazil Biomaterial Market – Product Analysis

5.1. Brazil biomaterial market: product overview

5.1.1. Brazil biomaterial market revenue share, by product, 2016- 2022

5.2. Cardiovascular biomaterial

5.2.1. Brazil cardiovascular biomaterial market, 2016- 2022 (USD Billion)

5.3. Orthopedic biomaterials

5.3.1. Brazil orthopedic biomaterials market, 2016- 2022 (USD Billion)

5.4. Wound care biomaterials

5.4.1. Brazil wound care biomaterials market, 2016- 2022 (USD Billion)

5.5. Urological biomaterials

5.5.1. Brazil urological biomaterials market, 2016- 2022 (USD Billion)

5.6. Plastic surgery biomaterials

5.6.1. Brazil plastic surgery biomaterials market, 2016- 2022 (USD Billion)

5.7. Gastrointestinal biomaterials

5.7.1. Brazil Gastrointestinal biomaterials market, 2016- 2022 (USD Billion)

Chapter 6. Brazil Biomaterial Market – Material Analysis

6.1. Brazil biomaterial market: material overview

6.1.1. Brazil biomaterial market revenue share, by material , 2016- 2022

6.2. Ceramics

6.2.1. Brazil ceramics biomaterial market, 2016- 2022 (USD Billion)

6.3. Metals

6.3.1. Brazil metals biomaterial market, 2016- 2022(USD Billion)

6.4. Polymers

6.4.1. Brazil polymers biomaterial market, 2016- 2022 (USD Billion)

Chapter 7. Brazil Biomaterial Market – Application Analysis

7.1. Brazil biomaterial market: application overview

7.1.1. Brazil biomaterial market revenue share, by application , 2016- 2022

7.2. Drug Delivery

7.2.1. Brazil biomaterial market, for drug delivery, 2016- 2022 (USD Billion)

7.3. Dental Products

7.3.1. Brazil biomaterial market, for dental products, 2016- 2022(USD Billion)

7.4. Surgical Appliances & Supplies

7.4.1. Brazil biomaterial market, by surgical appliances & supplies, 2016- 2022 (USD Billion)

7.5. General Surgery

7.5.1. Brazil biomaterial market, for general surgery, 2016- 2022 (USD Billion)

7.6. Electromedical Equipment

7.6.1. Brazil biomaterial market, for electromedical equipment, 2016- 2022 (USD Billion)

7.7. Others

7.7.1. Brazil biomaterial market, for other applications, 2016- 2022 (USD Billion)

Chapter 8. Company Profile

8.1. Allergan Inc

8.1.1. Overview
8.1.2. Financials
8.1.3. Product portfolio
8.1.4. Business strategy
8.1.5. Recent developments

8.2. Artimplant Ab

8.2.1. Overview
8.2.2. Financials
8.2.3. Product portfolio
8.2.4. Business strategy
8.2.5. Recent developments

8.3. Alphatec Spine Inc

8.3.1. Overview
8.3.2. Financials
8.3.3. Product portfolio
8.3.4. Business strategy
8.3.5. Recent developments

8.4. Biomet Inc.

8.4.1. Overview
8.4.2. Financials
8.4.3. Product portfolio
8.4.4. Business strategy
8.4.5. Recent developments

8.5. Synthes Inc.

8.5.1. Overview
8.5.2. Financials
8.5.3. Product portfolio
8.5.4. Business strategy
8.5.5. Recent developments

8.6. Integra Life Sciences Holdings Corporation

8.6.1. Overview
8.6.2. Financials
8.6.3. Product portfolio
8.6.4. Business strategy
8.6.5. Recent developments

8.7. Wright Medical Group, Inc

8.7.1. Overview
8.7.2. Financials
8.7.3. Product portfolio
8.7.4. Business strategy
8.7.5. Recent developments

8.8. Stryker Corporation

8.8.1. Overview
8.8.2. Financials
8.8.3. Product portfolio
8.8.4. Business strategy
8.8.5. Recent developments

8.9. Baxter International Inc

8.9.1. Overview
8.9.2. Financials
8.9.3. Product portfolio
8.9.4. Business strategy
8.9.5. Recent developments

8.10. Boston Scientific Corporation

8.10.1. Overview
8.10.2. Financials
8.10.3. Product portfolio
8.10.4. Business strategy
8.10.5. Recent development
---
List of Figures
1. Biomaterial market segmentation
2. Brazil biomaterial market revenue, 2016- 2022 (USD Billion)
3. Biomaterial: Market attractiveness analysis, by product segment
4. Biomaterial: Market attractiveness analysis, by application  segment
5. Brazil Biomaterial Market: Company Market Share, 2016
6. Brazil biomaterial market revenue share by product, 2016- 2022
7. Brazil cardiovascular biomaterial market, 2016- 2022 (USD Billion)
8. Brazil orthopedic biomaterials market, 2016- 2022 (USD Billion)
9. Brazil urological biomaterials market, 2016- 2022 (USD Billion)
10. Brazil plastic surgery biomaterials market, 2016- 2022 (USD Billion)
11. Brazil Gastrointestinal biomaterials market, 2016- 2022 (USD Billion)
12. Brazil biomaterial market revenue share by material, 2016- 2022
13. Brazil ceramics biomaterial market, 2016- 2022 (USD Billion)
14. Brazil metals biomaterial market,  2016- 2022(USD Billion)
15. Brazil polymers biomaterial market,  2016- 2022 (USD Billion)
16. Brazil biomaterial market revenue share by applications, 2016- 2022
17. Brazil biomaterial market, for drug delivery, 2016- 2022 (USD Billion)
18. Brazil biomaterial market, for dental products, 2016- 2022(USD Billion)
19. Brazil biomaterial market, by surgical appliances & supplies, 2016- 2022 (USD Billion)
20. Brazil biomaterial market, for general surgery, 2016- 2022 (USD Billion)
21. Brazil biomaterial market, for electromedical equipment, 2016- 2022 (USD Billion)
22. Brazil biomaterial market, for other applications, 2016- 2022 (USD Billion)
---
List of Tables
1. Brazil biomaterial market estimates and forecast, 2016- 2022 (USD Billion)
2. Brazil biomaterial market, by product, 2016- 2022 (USD Billion)
3. Brazil biomaterial market, by material, 2016- 2022 (USD Billion)
4. Brazil biomaterial market, by application, 2016- 2022 (USD Billion)
5. Biomaterial – Key market driver analysis
6. Biomaterial – Key market restraint analysis
[/wptab]
[wptab name='Request For Sample']
[/wptab]
[end_wptabset]