According to the report, the global contraceptive market accounted for around USD 12.75 billion in 2015 and is expected to reach approximately USD 16.25 billion by 2021, growing at a CAGR of around 4.00% between 2016 and 2021.
Contraception is the prevention of pregnancy by contraceptive methods other than abstinence and it is used to limit the size of the family. The percentage of women using contraceptives methods has increased in both developed and developing countries, in the last two decades. This has increased women's opportunities to choose when and how many children they want to have, which has a positive impact not only on their rights to education but also on their right to health, an adequate standard of living amongst other human rights and work. Use of contraceptive methods for family planning reduces the numbers of risky and unintended pregnancies, which in turn reduces the risks of long-term morbidity and maternal mortality. But still, more than 222 million women in developing countries do not have access to modern contraceptives.
[wptab name='Report Description' active="1″ ]
According to the report, the global contraceptive market accounted for around USD 12.75 billion in 2015 and is expected to reach approximately USD 16.25 billion by 2021, growing at a CAGR of around 4.00% between 2016 and 2021.
Contraceptive method deals with the medical procedure or product that interferes with acts of sexual intercourse reproduction. Contraception methods are used to prevent pregnancy and it is a major factor affecting responsible for controlling worldwide pregnancy and birth rates. Contraception methods are widely used in developing countries to prevent teenage pregnancies. Widely increasing population is one of the key burdens on the world. There are more than 7 billion humans living on this earth. In last decade, world population has increased at a lucrative growth rate; thus contraception methods are playing the prime role in controlling world population and family planning. Close or poorly timed pregnancy may lead to high infant mortality rates thus contraception method help women to plan their pregnancy to give the best care after and before baby birth.
World female population is experiencing continuous growth and presently female population in the world is around 3.5 Billion. Maternal mortality is increasing day by day and approximately 800 women die every day as a result of poor, unplanned and unhealthy pregnancy and childbirth. As compared to older women, young pregnant women face a higher risk of complications and death as a result of pregnancy. As a result, contraception market is rapidly growing with the increasing awareness towards improving maternal health. Contraception market is driven by rising use of contraception drugs & devices and the introduction of new contraception products. In addition, contraception product has the strong hold on market due to increasing prevalence of sexually transmitted diseases. According to World Health Organization, more than 500 million people are suffering from genital infection with herpes simplex virus (HSV) while more than 290 million women have a human papilloma-virus (HPV) infection. However, increasing the prevalence of side effects due to improper use of contraception products and low use of contraception by poor women in developing countries may act as a roadblock to contraception market. Nonetheless, untapped market and newly launched contraception product are projected to generate new opportunities in next five years.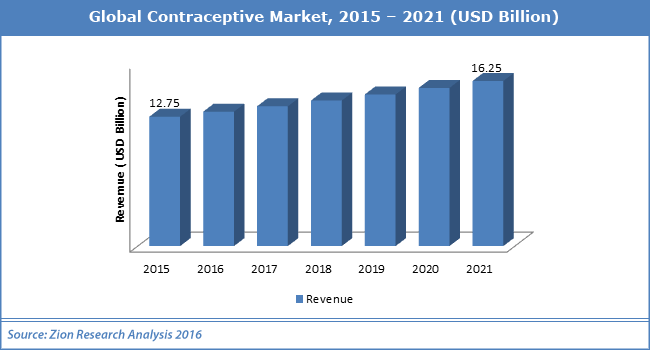 Based on the method type, the market of contraception has been classified into contraceptive pills, injectables, female sterilization, intrauterine devices & systems, male condom, emergency contraception and other. In developing countries, use of contraceptive pills is increasing in college students. Thus, contraceptive pills segment dominated the contraceptive market.  Female sterilization contraception is a permanent contraception procedure to prevent pregnancy. In 2015, female sterilization segment accounted for more than 25% market share. Thus, in the forecast period, these two segments are expected to exhibit noticeable growth due to rising awareness of personal care.
Based on the regional, the contraceptive market is classified into North America, Europe, Asia-Pacific, Latin America, and the Middle East and Africa. North America dominated the contraceptive market in 2015. North America contraceptive market was driven by increased awareness of women care and new emerging contraceptive products. Europe and Asia Pacific contraceptive market is projected to show healthy growth in coming years due to increasing investment in healthcare research and development.
Key operating players in contraceptive market are like The Female Health Company, Teva Pharmaceutical Industries, Bayer Healthcare Pharmaceuticals, Piramal Healthcare Limited, Reckitt Benckiser Plc., Cipla Limited, Novartis AG, Lupin Pharmaceuticals, Inc, Pfizer, Inc., Amgen Inc., Sun Pharmaceutical Industries Ltd., and Glenmark Pharmaceuticals.
[/wptab]
[wptab name='Table of content']
Chapter 1. Introduction

1.1. Report Description And Scope
1.2. Research Scope
1.3. Research Methodology

1.3.1. Market Research Process
1.3.2. Market Research Methodology

Chapter 2. Executive Summary

2.1. Global Contraceptive market, 2015 – 2021 (USD Billion)
2.2. Global Contraceptive market: Snapshot

Chapter 3. Contraceptive Market – Market Dynamics

3.1. Introduction
3.2. Market Drivers

3.2.1. Global Contraceptive market drivers: Impact Analysis
3.2.2. Increasing prevalence of sexually transmitted infections
3.2.3. Increasing women population

3.3. Global Contraceptive market Restraints: Impact Analysis

3.3.1. Increasing prevalence of side effects due to improper use of contraception products

3.4. Opportunities

3.4.1. Untapped market like developing countries and increasing medical tourism

3.5. Porter's Five Forces Analysis

3.5.1. Bargaining Power Of Suppliers
3.5.2. Bargaining Power Of Buyers
3.5.3. Threat From New Entrants
3.5.4. Threat From New Substitutes
3.5.5. Degree Of Competition

3.6. Market Attractiveness Analysis

3.6.1. Market Attractiveness Analysis, by method type segment

Chapter 4. Global Contraceptive Market – Competitive Landscape

4.1. Company Market Share, 2014 (Subject To Data Availability)
4.2. Strategic Development

4.2.1. Acquisitions & Mergers
4.2.2. New Source Launch
4.2.3. Agreements, Partnerships, Collaborations And Joint Ventures
4.2.4. Research And Development, Technology And Regional Expansion

4.3. Technology Portfolio
4.4. Patent Analysis (2011-2016)

4.4.1. Patent Trend
4.4.2. Patent Share By Company
4.4.3. By Region

Chapter 5. Global Contraceptive Market – Method type Analysis

5.1. Global Contraceptive market: Method type Segment Overview

5.1.1. Global Contraceptive market Revenue Share, By Method type Segment, 2015 And 2021

5.2. Contraceptive pills

5.2.1. Global Contraceptive market for contraceptive pills, 2015 – 2021 (USD Billion)

5.3. Injectables

5.3.1. Global Contraceptive market for Injectables, 2015 – 2021 (USD Billion)

5.4. Female sterilization

5.4.1. Global Contraceptive market for female sterilization, 2015 – 2021 (USD Billion)

5.5. Intrauterine devices & systems

5.5.1. Global Contraceptive market for intrauterine devices & systems, 2015 – 2021 (USD Billion)

5.6. Male condom

5.6.1. Global Contraceptive market for male condom, 2015 – 2021 (USD Billion)

5.7. Emergency contraception

5.7.1. Global Contraceptive market for Other, 2015 – 2021 (USD Billion)

5.8. Others

5.8.1. Global Contraceptive market for emergency contraception, 2015 – 2021 (USD Billion)

Chapter 6. Global Contraceptive market – Regional Segment Analysis

6.1. Global Contraceptive market: Regional Overview

6.1.1. Global Contraceptive market Revenue Share, By Region, 2014 And 2020

6.2. North America

6.2.1. North America Contraceptive market Revenue, by method type, 2015 – 2021 , (USD Billion)

6.3. Europe

6.3.1. Europe Contraceptive market Revenue, by method type, 2015 – 2021 , (USD Billion)

6.4. Asia Pacific

6.4.1. Asia Pacific Contraceptive market Revenue, by method type classification, 2015 – 2021 , (USD Billion)

6.5. Latin America

6.5.1. Latin America Contraceptive market Revenue, by method type, 2015 – 2021 , (USD Billion)

6.6. Middle East and Africa

6.6.1. Middle East and Africa Contraceptive market Revenue, by method type, 2015 – 2021 , (USD Billion)

Chapter 7. Company Profile

7.1. The Female Health Company

7.1.1. Overview
7.1.2. Financials
7.1.3. Technology Portfolio
7.1.4. Business Strategy
7.1.5. Recent Developments

7.2. Teva Pharmaceutical Industries

7.2.1. Overview
7.2.2. Financials
7.2.3. Technology Portfolio
7.2.4. Business Strategy
7.2.5. Recent Developments

7.3. Bayer Healthcare Pharmaceuticals

7.3.1. Overview
7.3.2. Financials
7.3.3. Technology Portfolio
7.3.4. Business Strategy
7.3.5. Recent Developments

7.4. Piramal Healthcare Limited

7.4.1. Overview
7.4.2. Financials
7.4.3. Technology Portfolio
7.4.4. Business Strategy
7.4.5. Recent Developments

7.5. Reckitt Benckiser Plc.

7.5.1. Financials
7.5.2. Technology Portfolio
7.5.3. Business Strategy
7.5.4. Recent Developments

7.6. Cipla Limited

7.6.1. Financials
7.6.2. Technology Portfolio
7.6.3. Business Strategy
7.6.4. Recent Developments

7.7. Novartis AG

7.7.1. Overview
7.7.2. Financials
7.7.3. Technology Portfolio
7.7.4. Business Strategy
7.7.5. Recent Developments

7.8. Lupin Pharmaceuticals, Inc,

7.8.1. Overview
7.8.2. Financials
7.8.3. Technology Portfolio
7.8.4. Business Strategy
7.8.5. Recent Developments

7.9. Pfizer, Inc.

7.9.1. Overview
7.9.2. Financials
7.9.3. Technology Portfolio
7.9.4. Business Strategy
7.9.5. Recent Developments

7.10. Amgen Inc.

7.10.1. Overview
7.10.2. Financials
7.10.3. Technology Portfolio
7.10.4. Business Strategy
7.10.5. Recent Developments

7.11. Sun Pharmaceutical Industries Ltd.

7.11.1. Overview
7.11.2. Financials
7.11.3. Technology Portfolio
7.11.4. Business Strategy
7.11.5. Recent Developments

7.12. Glenmark Pharmaceuticals

7.12.1. Overview
7.12.2. Financials
7.12.3. Technology Portfolio
7.12.4. Business Strategy
7.12.5. Recent Developments
---
List of Figures
1. Market Research Process
2. Market Research Methodology
3. Global Contraceptive market Revenue, 2015 – 2021 (USD Billion)
4. Porter's Five Forces Analysis
5. Global Contraceptive market: Market Attractiveness Analysis, by method type Segment
6. Global Contraceptive market: Market Attractiveness Analysis, by Regional Segment
7. Company Market Share Analysis, 2015 and 2021
8. Global Contraceptive market Revenue Share, by method type, 2015 And 2021
9. Global Contraceptive market For contraceptive pills, 2015 – 2021  (USD Billion)
10. Global Contraceptive market For injectables, 2015 – 2021  (USD Billion)
11. Global Contraceptive market For female sterilization, 2015 – 2021  (USD Billion)
12. Global Contraceptive market For intrauterine devices & systems, 2015 – 2021  (USD Billion)
13. Global Contraceptive market For male condom, 2015 – 2021  (USD Billion)
14. Global Contraceptive market For emergency contraception, 2015 – 2021  (USD Billion)
15. Global Contraceptive market For others, 2015 – 2021  (USD Billion)
16. Global Contraceptive market Share, By Region, 2015 – 2021
17. North America Contraceptive market, 2015 – 2021, (USD Billion)
18. Europe Contraceptive market, 2015 – 2021, (USD Billion)
19. Asia Pacific Contraceptive market, 2015 – 2021, (USD Billion)
20. Latin America Contraceptive market, 2015 – 2021, (USD Billion)
21. Middle East & Africa Contraceptive market, 2015 – 2021, (USD Billion
---
List of Tables
1. Contraceptive market: Market Snapshot
2. Drivers Of Global Contraceptive market: Impact Analysis
3. Restraints Of Global Contraceptive market: Impact Analysis
4. North America Contraceptive market Revenue, by method  2015 – 2021 , (USD Billion)
5. Europe Contraceptive market Revenue, by method  2015 – 2021 , (USD Billion)
6. Asia Pacific Contraceptive market Revenue, by method  2015 – 2021 , (USD Billion)
7. Latin America Contraceptive market Revenue, by method  2015 – 2021 , (USD Billion)
8. Middle East and Africa Contraceptive market Revenue, by method  2015 – 2021 , (USD Billion)
[/wptab]
[wptab name='Request For Sample']
[/wptab]
[end_wptabset]