According to the report, global peripheral guidewire market was valued at USD 578.9 million in 2015 and is expected to reach USD 871.2 million in 2021 growing at a CAGR of 7.10% between 2016 and 2021. Guidewires are an essential part of the vascular intervention. They are used to access target vessels, cross lesions, and deliver definitive interventional therapy. Peripheral guidewires are designed to navigate vessels to reach a lesion or vessel segment.
According to the report, global peripheral guidewire market was valued at USD 578.9 million in 2015 and is expected to reach USD 871.2 million in 2021 growing at a CAGR of 7.10% between 2016 and 2021.
A guidewire is an extremely thin tube on which catheter is positioned. The catheter is inserted in the artery and moved towards the area of blockage. Possible insertion points for guidewire or catheter includes brachial artery, coronary arteries, and groin. The most common insertion point for a catheter is the femoral artery at the groin area. A guidewire helps in positioning, inserting, and moving catheter within an artery to treat blockages. There are four main types of guidewires i.e. peripheral guidewires, coronary guidewires, neurovascular guidewires, and urology guidewires. The majority of guidewires are manufactured from inexpensive stainless steel with an elastic coil tip to avoid harm to the blood vessels. These guidewires are reusable in nature; therefore most manufacturers choose low-cost stainless steel as a raw material.
A peripheral guidewire is inserted in case of peripheral vascular intervention process whereas; coronary guidewire is inserted in the care of coronary intervention process. The peripheral guidewire is an elongated and flexible fine spring inserted into an artery through a small incision in the skin and used to operate an intravascular angiographic catheter. It is a tool used in the treatment of cardiovascular, neurovascular and urology disorders. This tool is largely used in minimally invasive surgeries. The guidewire is made up of multi layers including the central core, distal tip, and outer coating that possessing properties of steerability, torquability, pushability.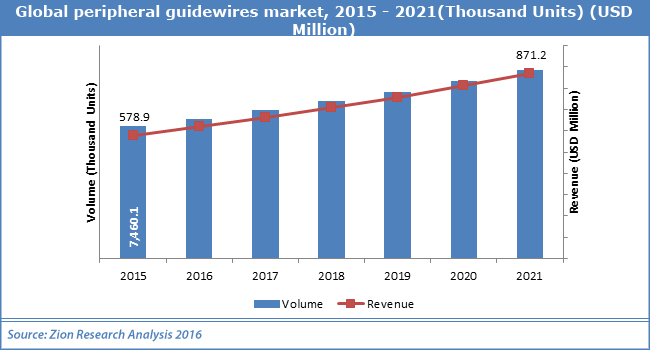 Growing demand for minimally invasive surgery is expected to fuel the growth of peripheral guidewire market. These procedures involve a shorter hospital stay and are economically beneficial. The guidewire usage is growing rapidly in the medical device sector owing to its several biomechanical properties. Increasing worldwide geriatric population and prevalence of various medical conditions such as coronary and peripheral barriers is also expected to drive the guidewires market during the forecast period. Furthermore, increasing the prevalence of cardiovascular, neurovascular and urology diseases would drive the peripheral guidewire market. However, the high price of endovascular procedure and stringent regulatory are restraining market growth. The technological advancement in medical equipment is likely to open new growth prospects for peripheral guidewires market.
The global peripheral guidewires market is segmented on the basis of application and region. Diagnostic and interventional are the key application segment of global peripheral guidewires market. Interventional application segment was the leading application segment for peripheral guidewires in 2015 and accounted for a significant share in the same year.
North American peripheral guidewires market was the largest in 2015 in terms of revenue and accounted for more than 40% share of the total market. This was due to the rising geriatric population coupled with high prevalence of chronic diseases in the region. Asia Pacific is expected to be one of the fastest growing regional markets for peripheral guidewires owing to growing medical tourism demand in emerging countries such as China and India.
Some of the key participants in this market are Abbott Laboratories, Boston Scientific Corporation, Asahi Intecc, Terumo Corporation, Cook Medical and among others. R&D investment has gradually increased over the last few years, in an attempt to develop cost effective product, technological advancement and to avoid product recalls.
Chapter 1 Preface

1.1 Report description
1.2 Research scope
1.3 Research methodology

1.3.1 Market research process
1.3.2 Market research methodology

Chapter 2 Executive Summary

2.1 Global peripheral guidewires market, 2015 – 2021(Thousand Units) (USD Million)
2.2 Global peripheral guidewires market: Snapshot

Chapter 3 Peripheral Guidewires – Industry Analysis

3.1 Introduction
3.2 Market drivers

3.2.1 Benefits of minimally invasive procedure
3.2.2 Rising geriatric population

3.3 Restraint

3.3.1 Preference to open surgery

3.4 Opportunity

3.4.1 Rising demand for medical tourism in emerging markets especially India

3.5 Diagnostic Guidewires
3.6 Porter's five forces analysis
3.7 Peripheral guidewires: Market attractiveness analysis

3.7.1 Market attractiveness analysis by application segment
3.7.2 Market attractiveness analysis by region segment

Chapter 4 Competitive Landscape

4.1 Company Market Share Analysis

4.1.1 Global peripheral guidewires market : Company market share, 2015

4.2 Strategic Development

4.2.1 Acquisitions & Mergers
4.2.2 New Product Launch
4.2.3 Agreements, Partnerships, Collaborations and Joint Ventures
4.2.4 Research and Development, Product and Regional Expansion

Chapter 5 Peripheral Guidewires Market – Application Segment Analysis

5.1 Global peripheral guidewires market overview: By application

5.1.1 Global peripheral guidewires market volume share, by application, 2015& 2021

5.2 Diagnostics

5.2.1 Global peripheral guidewires market for diagnostics, 2015 – 2021 (Thousand Units)(USD Million)

5.3 Interventional

5.3.1 Global peripheral guidewires market for interventional, 2015 – 2021 (Thousand Units)(USD Million)

Chapter 6 Peripheral Guidewires Market – Regional Analysis

6.1 Global peripheral guidewires market: Regional overview

6.1.1 Global peripheral guidewires market volume share, by region, 2015& 2021

6.2 North America

6.2.1 North America peripheral guidewires market, 2015 – 2021(Thousand Units) (USD Million)
6.2.2 North America peripheral guidewires market volume, by application, 2015 – 2021(Thousand Units)
6.2.3 North America peripheral guidewires market revenue, by application, 2015 – 2021(USD Million)
6.2.4 U.S.

6.2.4.1 U.S. peripheral guidewires market volume, by application, 2015 – 2021(Thousand Units)
6.2.4.2 U.S. peripheral guidewires market revenue, by application, 2015 – 2021(USD Million)

6.3 Europe

6.3.1 Europe peripheral guidewires market, 2015 – 2021(Thousand Units)(USD Million)
6.3.2 Europe peripheral guidewires market volume, by application, 2015 – 2021(Thousand Units)
6.3.3 Europe peripheral guidewires market revenue, by application, 2015 – 2021(USD Million)
6.3.4 Germany

6.3.4.1 Germany peripheral guidewires market volume, by application, 2015 – 2021(Thousand Units)
6.3.4.2 Germany peripheral guidewires market revenue, by application, 2015 – 2021(USD Million)

6.3.5 France

6.3.5.1 France peripheral guidewires market volume, by application, 2015 – 2021(Thousand Units)
6.3.5.2 France peripheral guidewires market revenue, by application, 2015 – 2021(USD Million)

6.3.6 UK

6.3.6.1 UK peripheral guidewires market volume, by application, 2015 – 2021(Thousand Units)
6.3.6.2 UK peripheral guidewires market revenue, by application, 2015 – 2021(USD Million)

6.4 Asia Pacific

6.4.1 Asia Pacific peripheral guidewires market, 2015 – 2021(Thousand Units)(USD Million)
6.4.2 Asia Pacific peripheral guidewires market volume, by application, 2015 – 2021(Thousand Units)
6.4.3 Asia Pacific peripheral guidewires market revenue, by application, 2015 – 2021(USD Million)
6.4.4 China

6.4.4.1 China peripheral guidewires market volume, by application, 2015 – 2021(Thousand Units)
6.4.4.2 China peripheral guidewires market revenue, by application, 2015 – 2021(USD Million)

6.4.5 Japan

6.4.5.1 Japan peripheral guidewires market volume, by application, 2015 – 2021(Thousand Units)
6.4.5.2 Japan peripheral guidewires market revenue, by application, 2015 – 2021(USD Million)

6.4.6 India

6.4.6.1 India peripheral guidewires market volume, by application, 2015 – 2021(Thousand Units)
6.4.6.2 India peripheral guidewires market revenue, by application, 2015 – 2021(USD Million)

6.5 Latin America

6.5.1 Latin America peripheral guidewires market, 2015 – 2021(Thousand Units)(USD Million)
6.5.2 Latin America peripheral guidewires market volume, by application, 2015 – 2021(Thousand Units)
6.5.3 Latin America peripheral guidewires market revenue, by application, 2015 – 2021(USD Million)
6.5.4 Brazil

6.5.4.1 Brazil peripheral guidewires market volume, by application, 2015 – 2021(Thousand Units)
6.5.4.2 Brazil peripheral guidewires market revenue, by application, 2015 – 2021(USD Million)

6.6 Middle East and Africa

6.6.1 Middle East and Africa peripheral guidewires market, 2015 – 2021(Thousand Units)(USD Million)
6.6.2 Middle East and Africa peripheral guidewires market volume, by application, 2015 – 2021(Thousand Units)
6.6.3 Middle East and Africa peripheral guidewires market revenue, by application, 2015 – 2021(USD Million)

Chapter 7 Company Profiles

7.1 Abbott Laboratories

7.1.1 Overview
7.1.2 Financials
7.1.3 Product Portfolio
7.1.4 Business Strategy
7.1.5 Recent Developments

7.2 Boston Scientific Corporation

7.2.1 Overview
7.2.2 Financials
7.2.3 Product Portfolio
7.2.4 Business Strategy
7.2.5 Recent Developments

7.3 Asahi Intecc Co., Ltd.

7.3.1 Overview
7.3.2 Financials
7.3.3 Product Portfolio
7.3.4 Business Strategy
7.3.5 Recent Developments

7.4 Terumo Corporation

7.4.1 Overview
7.4.2 Financials
7.4.3 Product Portfolio
7.4.4 Business Strategy
7.4.5 Recent Developments

7.5 Cook Medical

7.5.1 Overview
7.5.2 Product portfolio
7.5.3 Business Strategy
7.5.4 Recent Developments
---
List of Figures 
FIG. 1 Market Research Process
FIG. 2 Market Research Methodology
FIG. 3 Global peripheral guidewires market, 2015 – 2021(Thousand Units) (USD Million)
FIG. 4 Market for Minimally Invasive Medical Devices
FIG. 5 Aging Population (% of Population Over Age 65)
FIG. 6 (Medical Tourism-India) Number of patients by the type of treatment
FIG. 7 Porter's five forces analysis for peripheral guidewires market
FIG. 8 Market attractiveness analysis by application segment
FIG. 9 Market attractiveness analysis by region segment
FIG. 10 Global Peripheral Guidewires Market : Company Market Share, 2015
FIG. 11 Global peripheral guidewires market volume share, by application, 2015& 2021 (Thousand Units)(USD Million)
FIG. 12 Global peripheral guidewires market for diagnostics, 2015 – 2021 (Thousand Units)(USD Million)
FIG. 13 Global peripheral guidewires market for interventional, 2015 – 2021 (Thousand Units)(USD Million)
FIG. 14 Global peripheral guidewires market volume share, by region, 2015& 2021
FIG. 15 North America peripheral guidewires market, 2015 – 2021(Thousand Units)(USD Million)
FIG. 16 Europe peripheral guidewires market, 2015 – 2021(Thousand Units)(USD Million)
FIG. 17 Asia Pacific peripheral guidewires market, 2015 – 2021(Thousand Units)(USD Million)
FIG. 18 Latin America peripheral guidewires market, 2015 – 2021(Thousand Units)(USD Million)
FIG. 19 Middle East and Africa peripheral guidewires market, 2015 – 2021(Thousand Units)(USD Million)
---
List of Tables
TABLE 1 Global peripheral guidewires market: Snapshot
TABLE 2 Drivers of the peripheral guidewires market: Impact analysis
TABLE 3 Restraints for the peripheral guidewires market: Impact analysis
TABLE 4 North America peripheral guidewires market volume, by application,  2015 – 2021(Thousand Units)
TABLE 5 North America peripheral guidewires market revenue, by application,  2015 – 2021(USD Million)
TABLE 6 U.S. peripheral guidewires market volume, by application,  2015 – 2021(Thousand Units)
TABLE 7 U.S. peripheral guidewires market revenue, by application,  2015 – 2021(USD Million)
TABLE 8 Europe peripheral guidewires market volume, by application,  2015 – 2021(Thousand Units)
TABLE 9 Europe peripheral guidewires market revenue, by application,  2015 – 2021(USD Million)
TABLE 10 Germany peripheral guidewires market volume, by application,  2015 – 2021(Thousand Units)
TABLE 11 Germany peripheral guidewires market revenue, by application,  2015 – 2021(USD Million)
TABLE 12 France peripheral guidewires market volume, by application,  2015 – 2021(Thousand Units)
TABLE 13 France peripheral guidewires market revenue, by application,  2015 – 2021(USD Million)
TABLE 14 UK peripheral guidewires market volume, by application,  2015 – 2021(Thousand Units)
TABLE 15 UK peripheral guidewires market revenue, by application,  2015 – 2021(USD Million)
TABLE 16 Asia Pacific peripheral guidewires market volume, by application,  2015 – 2021(Thousand Units)
TABLE 17 Asia Pacific peripheral guidewires market revenue, by application,  2015 – 2021(USD Million)
TABLE 18 China peripheral guidewires market volume, by application,  2015 – 2021(Thousand Units)
TABLE 19 China peripheral guidewires market revenue, by application,  2015 – 2021(USD Million)
TABLE 20 Japan peripheral guidewires market volume, by application,  2015 – 2021(Thousand Units)
TABLE 21 Japan peripheral guidewires market revenue, by application,  2015 – 2021(USD Million)
TABLE 22 India peripheral guidewires market volume, by application,  2015 – 2021(Thousand Units)
TABLE 23 India peripheral guidewires market revenue, by application,  2015 – 2021(USD Million)
TABLE 24 Latin America peripheral guidewires market volume, by application,  2015 – 2021(Thousand Units)
TABLE 25 Latin America peripheral guidewires market revenue, by application,  2015 – 2021(USD Million)
TABLE 26 Brazil peripheral guidewires market volume, by application,  2015 – 2021(Thousand Units)
TABLE 27 Brazil peripheral guidewires market revenue, by application,  2015 – 2021(USD Million)
TABLE 28 Middle East and Africa peripheral guidewires market volume, by application,  2015 – 2021(Thousand Units)
TABLE 29 Middle East and Africa peripheral guidewires market revenue, by application,  2015 – 2021(USD Million)