The global pruritus therapeutics market was valued at USD 9.54 billion in 2014 and is expected to reach USD 13.83 billion by 2022, growing at a CAGR of 4.8% between 2016 and 2022.Pruritus also known as itch can be caused by a number diseases ranging from dermatological conditions including atopic dermatitis, contact dermatitis, mycoses, chickenpox etc. Pruritus is related with systemic and dermatologic causes. A characteristic itching usually establishes the diagnosis of a key dermatologic disorder. Numbers of skin diseases are associated with pruritus; includes cholestatic pruritus, renal pruritus, endocrine pruritus, hematologic pruritus, idiopathic generalized pruritus and pruritus related to malignancy. Renal pruritus can occur in patients with chronic renal failure. Increased levels of ions such as phosphate, magnesium, and calcium are found in the skin of pruritic patients. Severe pruritus leads to scratching that causes secondary skin problems of dryness, excoriation, eczematization, lichenification and infection. Contact allergy to topical therapies and excessive bathing can lead to pruritus.
[wptab name='Report Description' active="1″ ]
The global pruritus therapeutics market was valued at USD 9.54 billion in 2014 and is expected to reach USD 13.83 billion by 2022, growing at a CAGR of 4.8% between 2016 and 2022.
Pruritus is the medical term for itchy skin. Pruritus is the most common dermatological disorder. Pruritus is a normal body reaction to protect from harmful external parasites or substances such as insect bites. However, it can be as a result of wide range of skin diseases. Pruritus lasting for more than 6 weeks is called chronic pruritus. Pruritus has been classified into the following four key types include neuropathic, cutaneous, psychogenic and neurogenic. Chronic renal failure is a vital cause of persistent pruritus. Pruritus is enhanced or provoked by a number of chemical substances such as prostaglandins, cytokines, histamine, proteases, neuropeptides and bile salts. Furthermore, chronic pruritus is becoming a burden to society mainly due to the treatment-related costs, which is particularly high due to the elevation rate of therapeutic failure.
Atopic dermatitis is also known as eczema. This is one of the most common skin diseases found in children. Itching may cause skin darkening & thickening and lead to further complications including bacterial infection. In atopic dermatitis, the primary skin becomes extremely inflamed & itchy causing swelling, redness, vesicle formation, cracking, crusting, weeping, and scaling. Thus, pruritus therapeutics market is mainly driven by increasing the prevalence of atopic dermatitis. Moreover, development of new drug and a strong pipeline is also expected to propel the market growth in the years. However, lack of awareness about pruritus may hamper the growth of pruritus therapeutics market. Nonetheless, untapped market and an increasing number of patent expiry of pruritus drugs may generate new opportunity in the forecast period.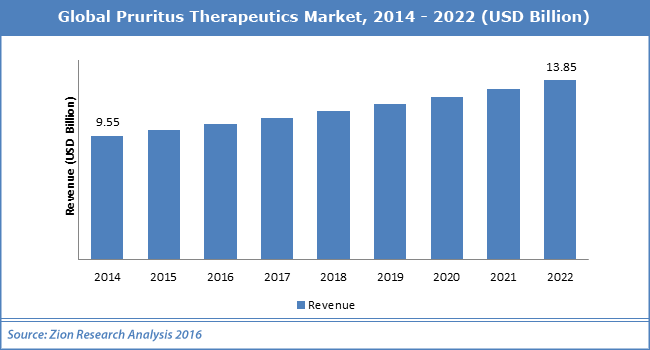 The market of pruritus therapeutics has been segmented into antihistamines, topical corticosteroids, opioid receptor antagonists, topical immunomodulators, antidepressants, immunosuppressants, topical local anesthetics, cannabinoid receptors and others. Topical corticosteroids segment dominated the market with more than 20% market share in 2014 while antidepressants segment expected to witness exponential growth in the forecast period. Topical corticosteroids are mostly used to provide relief of itching associated with inflammatory skin diseases such as atopic dermatitis or psoriasis.
Based on region, the pruritus therapeutics market is classified into North America, Europe, Asia-Pacific, Latin America, and the Middle East and Africa. As a result of favorable government initiatives and introduction of new products for pruritus treatments, North America dominated the market in 2014. Europe was the second largest segment in pruritus therapeutics market and is projected to grow at a steady growth rate.
Key players operating in the global pruritus therapeutics market include Allergan Inc., Amgen Inc., Astellas Pharma Inc., CARA Therapeutics, Novartis AG, and Teva Pharmaceutical Industries Ltd., Ajanta Pharma ltd, Abbot Lab, GSK and Galderma.
[/wptab]
[wptab name='Table of content']
Chapter 1. Introduction

1.1. Report Description And Scope
1.2. Research Scope
1.3. Research Methodology

1.3.1. Market Research Process
1.3.2. Market Research Methodology

Chapter 2. Executive Summary

2.1. Global Pruritus Therapeutics Market, 2014 – 2022 (USD Billion)
2.2. Global Pruritus Therapeutics Market: Snapshot

Chapter 3. Pruritus Therapeutics Market – Market Dynamics

3.1. Introduction
3.2. Value Chain Analysis
3.3. Market Drivers

3.3.1. Global Pruritus Therapeutics Market drivers: Impact Analysis
3.3.2. increasing prevalence of atopic dermatitis
3.3.3. Development of new drug and a strong pipeline

3.4. Global Pruritus Therapeutics Market Restraints: Impact Analysis

3.4.1. Lack of awareness about pruritus

3.5. Opportunities

3.5.1. Untapped market and increasing number of patent expiry of pruritus drugs

3.6. Porter's Five Forces Analysis

3.6.1. Bargaining Power Of Suppliers
3.6.2. Bargaining Power Of Buyers
3.6.3. Threat From New Entrants
3.6.4. Threat From New Substitutes
3.6.5. Degree Of Competition

3.7. Market Attractiveness Analysis

3.7.1. Market Attractiveness Analysis, by therapeutic segment
3.7.2. Market Attractiveness Analysis, by Regional Segment

Chapter 4. Global Pruritus Therapeutics Market – Competitive Landscape

4.1. Company Market Share, 2014 (Subject To Data Availability)
4.2. Strategic Development

4.2.1. Acquisitions & Mergers
4.2.2. New Source Launch
4.2.3. Agreements, Partnerships, Collaborations And Joint Ventures
4.2.4. Research And Development, Therapeutic And Regional Expansion

4.3. Technology Portfolio
4.4. Patent Analysis (2011-2015)

4.4.1. Patent Trend
4.4.2. Patent Share By Company
4.4.3. By Region

Chapter 5. Global Pruritus Therapeutics Market – Therapeutic Analysis

5.1. Global Pruritus Therapeutics Market: Therapeutic Segment Overview

5.1.1. Global Pruritus Therapeutics Market Revenue Share, By Therapeutic Segment, 2014 And 2022

5.2. Antihistamines

5.2.1. Global Pruritus Therapeutics Market For Antihistamines, 2014 – 2022 (USD Billion)

5.3. Topical Corticosteroids

5.3.1. Global Pruritus Therapeutics Market For Topical Corticosteroids, 2014 – 2022 (USD Billion

5.4. Opioid Receptor Antagonists

5.4.1. Global Pruritus Therapeutics Market For Opioid Receptor Antagonists, 2014 – 2022 (USD Billion)

5.5. Topical Immunomodulators

5.5.1. Global Pruritus Therapeutics Market For Topical Immunomodulators, 2014 – 2022 (USD Billion)

5.6. Antidepressants

5.6.1. Global Pruritus Therapeutics Market For Antidepressants , 2014 – 2022 (USD Billion)

5.7. Immunosuppressants

5.7.1. Global Pruritus Therapeutics Market For Immunosuppressants, 2014 – 2022 (USD Billion)

5.8. Topical Local Anesthetics

5.8.1. Global Pruritus Therapeutics Market For Topical Local Anesthetics, 2014 – 2022 (USD Billion)

5.9. Cannabinoid Receptors

5.9.1. Global Pruritus Therapeutics Market For Cannabinoid Receptors, 2014 – 2022 (USD Billion)

5.10. Others

5.10.1. Global Pruritus Therapeutics Market For others, 2014 – 2022 (USD Billion)

Chapter 6. Global Pruritus Therapeutics Market – Regional Segment Analysis

6.1. Global Pruritus Therapeutics Market: Regional Overview

6.1.1. Global Pruritus Therapeutics Market Revenue Share, By Region, 2014 And 2020

6.2. North America

6.2.1. North America Pruritus Therapeutics Market Revenue, by therapeutic 2014 – 2022 , (USD Billion)
6.2.2. U.S.

6.2.2.1. U.S. Pruritus Therapeutics Market Revenue, by therapeutic type classification, 2014 – 2022 , (USD Million)

6.3. Europe

6.3.1. Europe Pruritus Therapeutics Market Revenue, by therapeutic 2014 – 2022 , (USD Billion)
6.3.2. U.K.

6.3.2.1. U.K. Pruritus Therapeutics Market Revenue, by therapeutic type classification, 2014 – 2022 , (USD Million)

6.3.3. Germany

6.3.3.1. Germany Pruritus Therapeutics Market Revenue, by therapeutic type classification, 2014 – 2022 , (USD Million)

6.3.4. France

6.3.4.1. France Pruritus Therapeutics Market Revenue, by therapeutic type classification, 2014 – 2022 , (USD Million)

6.4. Asia Pacific

6.4.1. Asia Pacific Pruritus Therapeutics Market Revenue, by therapeutic 2014 – 2022 , (USD Billion)
6.4.2. India

6.4.2.1. India Pruritus Therapeutics Market Revenue, by therapeutic type classification, 2014 – 2022 , (USD Million)

6.4.3. China

6.4.3.1. China Pruritus Therapeutics Market Revenue, by therapeutic type classification, 2014 – 2022 , (USD Million)

6.4.4. Japan

6.4.4.1. Japan Pruritus Therapeutics Market Revenue, by therapeutic type classification, 2014 – 2022 , (USD Million)

6.5. Latin America

6.5.1. Latin America Pruritus Therapeutics Market Revenue, by therapeutic 2014 – 2022 , (USD Billion)
6.5.2. Brazil

6.5.2.1. Brazil Pruritus Therapeutics Market Revenue, by therapeutic type classification, 2014 – 2022 , (USD Million)

6.6. Middle East and Africa

6.6.1. Middle East and Africa Pruritus Therapeutics Market Revenue, by therapeutic 2014 – 2022 , (USD Billion)

Chapter 7. Company Profile

7.1. Allergan Inc.

7.1.1. Overview
7.1.2. Financials
7.1.3. Technology Portfolio
7.1.4. Business Strategy
7.1.5. Recent Developments

7.2. Amgen Inc.

7.2.1. Overview
7.2.2. Financials
7.2.3. Technology Portfolio
7.2.4. Business Strategy
7.2.5. Recent Developments

7.3. Astellas Pharma Inc.

7.3.1. Overview
7.3.2. Financials
7.3.3. Technology Portfolio
7.3.4. Business Strategy
7.3.5. Recent Developments

7.4. CARA Therapeutics

7.4.1. Overview
7.4.2. Financials
7.4.3. Technology Portfolio
7.4.4. Business Strategy
7.4.5. Recent Developments

7.5. Novartis AG

7.5.1. Financials
7.5.2. Technology Portfolio
7.5.3. Business Strategy
7.5.4. Recent Developments

7.6. Teva Pharmaceutical Industries Ltd.

7.6.1. Financials
7.6.2. Technology Portfolio
7.6.3. Business Strategy
7.6.4. Recent Developments

7.7. Ajanta Pharma ltd.

7.7.1. Overview
7.7.2. Financials
7.7.3. Technology Portfolio
7.7.4. Business Strategy
7.7.5. Recent Developments

7.8. Abbot lab

7.8.1. Overview
7.8.2. Financials
7.8.3. Technology Portfolio
7.8.4. Business Strategy
7.8.5. Recent Developments

7.9. GlaxoSmithKline plc.

7.9.1. Overview
7.9.2. Financials
7.9.3. Technology Portfolio
7.9.4. Business Strategy
7.9.5. Recent Developments

7.10. Galderma

7.10.1. Overview
7.10.2. Financials
7.10.3. Technology Portfolio
7.10.4. Business Strategy
7.10.5. Recent Developments
---
List of Figures
1. Market Research Process
2. Market Research Methodology
3. Global Pruritus Therapeutics Market Revenue, 2014 – 2022 (USD Billion)
4. Porter's Five Forces Analysis
5. Global Pruritus Therapeutics Market: Market Attractiveness Analysis, by technology type Segment
6. Global Pruritus Therapeutics Market: Market Attractiveness Analysis, by Regional Segment
7. Company Market Share Analysis, 2014 and 2022
8. Global Pruritus Therapeutics Market Revenue Share, by Therapeutic type, 2014 And 2022
9. Global Pruritus Therapeutics Market For Antihistamines, 2014 – 2022  (USD Billion)
10. Global Pruritus Therapeutics Market For Topical Corticosteroids, 2014 – 2022  (USD Billion)
11. Global Pruritus Therapeutics Market For Opioid Receptor Antagonists, 2014 – 2022  (USD Billion)
12. Global Pruritus Therapeutics Market For Topical Immunomodulators, 2014 – 2022  (USD Billion)
13. Global Pruritus Therapeutics Market For Antidepressants, 2014 – 2022  (USD Billion)
14. Global Pruritus Therapeutics Market For Immunosuppressants, 2014 – 2022  (USD Billion)
15. Global Pruritus Therapeutics Market For Topical Local Anesthetics, 2014 – 2022  (USD Billion)
16. Global Pruritus Therapeutics Market For Cannabinoid Receptors, 2014 – 2022  (USD Billion)
17. Global Pruritus Therapeutics Market For others, 2014 – 2022  (USD Billion)
18. Global Pruritus Therapeutics Market Share, By Region, 2014 – 2022
19. North America Pruritus Therapeutics Market, 2014 – 2022, (USD Billion)
20. U.S. Pruritus Therapeutics Market, 2014 – 2022, (USD Million)
21. Europe Pruritus Therapeutics Market, 2014 – 2022, (USD Billion)
22. U.K. Pruritus Therapeutics Market, 2014 – 2022, (USD Million)
23. Germany Pruritus Therapeutics Market, 2014 – 2022, (USD Million)
24. France Pruritus Therapeutics Market, 2014 – 2022, (USD Million)
25. Asia Pacific Pruritus Therapeutics Market, 2014 – 2022, (USD Billion)
26. India Pruritus Therapeutics Market, 2014 – 2022, (USD Million)
27. China Pruritus Therapeutics Market, 2014 – 2022, (USD Million)
28. Japan Pruritus Therapeutics Market, 2014 – 2022, (USD Million)
29. Latin America Pruritus Therapeutics Market, 2014 – 2022, (USD Billion)
30. Brazil Pruritus Therapeutics Market, 2014 – 2022, (USD Million)
31. Middle East & Africa Pruritus Therapeutics Market, 2014 – 2022, (USD Billion)
---
List of Tables
1. Pruritus Therapeutics Market: Market Snapshot
2. Drivers Of Global Pruritus Therapeutics Market: Impact Analysis
3. Restraints Of Global Pruritus Therapeutics Market: Impact Analysis
4. North America Pruritus Therapeutics Market Revenue, by therapeutic  2014 – 2022 , (USD Billion)
5. U.S. Pruritus Therapeutics Market Revenue, by therapeutic  2014 – 2022 , (USD Million)
6. Europe Pruritus Therapeutics Market Revenue, by therapeutic  2014 – 2022 , (USD Billion)
7. U.K. Pruritus Therapeutics Market Revenue, by therapeutic  2014 – 2022 , (USD Million)
8. Germany Pruritus Therapeutics Market Revenue, by therapeutic  2014 – 2022 , (USD Million)
9. France Pruritus Therapeutics Market Revenue, by therapeutic  2014 – 2022 , (USD Million)
10. Asia Pacific Pruritus Therapeutics Market Revenue, by therapeutic  2014 – 2022 , (USD Billion)
11. India Pruritus Therapeutics Market Revenue, by therapeutic type  2014 – 2022 , (USD Million)
12. China Pruritus Therapeutics Market Revenue, by therapeutic type  2014 – 2022 , (USD Million)
13. Japan Pruritus Therapeutics Market Revenue, by therapeutic type  2014 – 2022 , (USD Million)
14. Latin America Pruritus Therapeutics Market Revenue, by therapeutic  2014 – 2022 , (USD Billion)
15. Brazil Pruritus Therapeutics Market Revenue, by therapeutic type2014 – 2022 , (USD Million)
16. Middle East and Africa Pruritus Therapeutics Market Revenue, by therapeutic  2014 – 2022 , (USD Billion)
[/wptab]
[wptab name='Request For Sample']
[/wptab]
[end_wptabset]