According to the report, global radiopharmaceutical market was valued at around USD 4.32 billion in 2015, is expected to reach approximately USD 7.13 billion in 2021, growing at a CAGR of more than 8.8% between 2016 and 2021. Radiopharmaceutical is a medication used in nuclear medicine that has the radioactive part and pharmaceutical part. Nuclear medication is given to a patient in a small amount; this makes patient body radioactive for the short time span.
According to the report, global radiopharmaceutical market was valued at around USD 4.32 billion in 2015, is expected to reach approximately USD 7.13 billion in 2021, growing at a CAGR of more than 8.8% between 2016 and 2021.
Radiopharmaceuticals are therapeutic agents used to diagnose certain medical condition or treat certain diseases. Unlike other imaging techniques such as Computed Tomography (CT), Magnetic Resonance Imaging (MRI), and Ultrasound (US), nuclear medicine processes are capable of mapping metabolic activity and physiological function. Radiopharmaceutical procedure provides more precise information about the organ function or dysfunction. Nuclear medicine may be given to the patient in various different ways. They may be given by injection, given orally, or placed into the bladder.
Radiopharmaceuticals are to be given only under the direct supervision of a doctor with specialized training in nuclear medicine. Radiopharmaceutical process is rigorously regulated by the European Medicines Agency (EMA) in Europe and Food and Drug Administration (FDA) in the U.S. General interval for approval of process is typically five to eight years, from the early discovery to the availability for the physicians.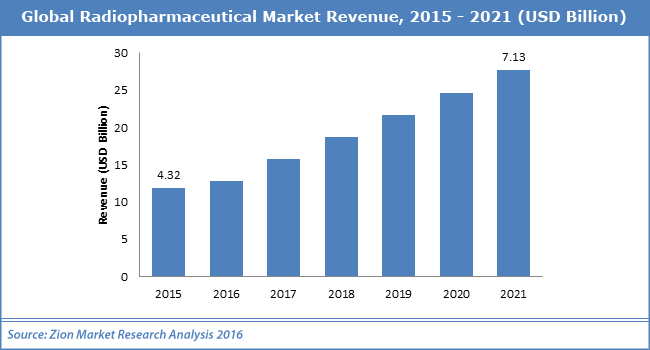 Radiopharmaceutical market growth is triggered by growing demand for PET and SPECT radioisotopes. Single-photon emission computed tomography (SPECT) and Positron emission tomography (PET) are the nuclear medicine imaging techniques.  Other factors contributing to this growth include increasing incidences of cancer and heart diseases.. However, factors such as stringent regulatory guidelines, shorter half-life of nuclear medicine and competition from conventional diagnostic procedures can affect the growth of this market.
Radiopharmaceutical market is segmented on the basis of type, application and region. On the basis of type radiopharmaceutical market is segmented into diagnostic radiopharmaceuticals and therapeutic radiopharmaceuticals.  The diagnostics segment is classified into SPECT and PET. Diagnostic radiopharmaceuticals segment acquired largest market in 2015 owing to well established use of radio isotopes in diagnostic imaging. Cardiology and oncology are the core application areas of for diagnostic radiopharmaceutical.  The therapeutic radiopharmaceuticals segment is expected to show fastest growth in forecast period due to its advantages over traditional therapies and drugs. The therapeutics segment is further divided into beta emitters, alpha emitters, and brachytherapy isotopes.
Radiopharmaceutical application segment includes cardiology, neurology, oncology, and other. Cardiology application segment accounted for significant share of radiopharmaceutical market in 2015. Cancer is, therefore, emerging as a lucrative application area for radiopharmaceuticals industry.
Geographically, the global radiopharmaceutical market is segmented into North America, Europe, Latin America, Asia-Pacific, and Middle East and Africa. The radiopharmaceutical market was dominated by North America accounting for the largest share of the total market in 2015. In 2015, U.S. accounted for the major share of the North American radiopharmaceuticals market, followed by Canada. The key factors driving market growth in the U.S. include approval for new nuclear medicine by the FDA in this region. An alternative treatment for cancer and growing prevalence of thyroid cancer also boosts the global radiopharmaceutical market growth.
The Asia-Pacific radiopharmaceuticals market is expected to grow at the fastest rate during the forecast period owing to a rise in the demand for PET and SPECT devices coupled with rising patient awareness for cardiovascular diseases and oncology.
Some of the major players in the radiopharmaceuticals market include Cardinal Health, Inc., GE Healthcare, Bracco Imaging S.p.A, Eczacibasi-Monrol Nuclear Products, Nordion, Inc., Advanced Accelerator Applications S.A., Bayer Healthcare, Lantheus Medical Imaging, Inc., IBA Molecular Imaging, Mallinckrodt plc, Jubilant Pharma, and Siemens Healthcare.

Chapter 1. Preface

1.1. Report description and scope
1.2. Research scope
1.3. Research methodology

1.3.1. Market research process
1.3.2. Market research methodology

Chapter 2. Executive Summary

2.1. Global Radiopharmaceutical Market, 2015 – 2021, (USD Billion)
2.2. Radiopharmaceutical : Market snapshot

Chapter 3. Radiopharmaceutical Market: Industry Analysis

3.1. Radiopharmaceutical : Market dynamics
3.2. Value Chain Analysis
3.3. Market Drivers

3.3.1. Growing demand for PET and SPECT radioisotopes
3.3.2. Increasing incidences of cancer and heart diseases

3.4. Restraints

3.4.1. Stringent regulatory guidelines
3.4.2. Shorter half-life of nuclear medicine

3.5. Opportunity

3.5.1. Advancing technologies and ongoing research

3.6. Porter's Five Forces Analysis
3.7. Market Attractiveness Analysis

3.7.1. Market attractiveness analysis by type segment
3.7.2. Market attractiveness analysis by application segment
3.7.3. Market attractiveness analysis by regional segment

Chapter 4. Global Radiopharmaceutical Market: Competitive Landscape

4.1. Company Market Share Analysis

4.1.1. Global radiopharmaceutical market: company market share, 2015

4.2. Strategic Development

4.2.1. Acquisitions & Mergers
4.2.2. New Product Launch
4.2.3. Agreements, Partnerships, Collaborations and Joint Ventures
4.2.4. Research and Development, Product and Regional Expansion

4.3. Price Trend Analysis
4.4. Product Portfolio
4.5. Patent Analysis (2011-2016)

4.5.1. Patent Trend
4.5.2. Patent Share by company
4.5.3. By Region

Chapter 5. Global Radiopharmaceutical Market: Product Overview

5.1. Global radiopharmaceutical market share, by type, 2015 and 2021
5.2. Global diagnostic radiopharmaceutical market, 2015 – 2021 (USD Billion)
5.3. Global therapeutic radiopharmaceutical market, 2015 – 2021 (USD Billion)

Chapter 6. Global Radiopharmaceutical Market: Application Overview

6.1. Global radiopharmaceutical market share, by application, 2015 and 2021
6.2. Global radiopharmaceutical market for cardiology, 2015 – 2021 (USD Billion)
6.3. Global radiopharmaceutical market for neurology, 2015 – 2021 (USD Billion)
6.4. Global radiopharmaceutical market for oncology, 2015 – 2021 (USD Billion)
6.5. Global radiopharmaceutical market for other, 2015 – 2021 (USD Billion)

Chapter 7. Global Radiopharmaceutical Market: Regional Analysis

7.1. Global radiopharmaceutical market: Regional overview

7.1.1. Global radiopharmaceutical market share, by region, 2015 and 2021

7.2. North America

7.2.1. North America radiopharmaceutical market revenue, by type, 2015 – 2021 (USD Billion)
7.2.2. North America radiopharmaceutical market revenue, by application, 2015 – 2021 (USD Billion)
7.2.3. U.S.

7.2.3.1. U.S. radiopharmaceutical market revenue, by type, 2015 – 2021 (USD Billion)
7.2.3.2. U.S. radiopharmaceutical market revenue, by application, 2015 – 2021 (USD Billion)

7.3. Europe

7.3.1. Europe radiopharmaceutical market revenue, by type, 2015 – 2021 (USD Billion)
7.3.2. Europe radiopharmaceutical market revenue, by application, 2015 – 2021 (USD Billion)
7.3.3. UK

7.3.3.1. UK radiopharmaceutical market revenue, by type, 2015 – 2021 (USD Billion)
7.3.3.2. UK radiopharmaceutical market revenue, by application, 2015 – 2021 (USD Billion)

7.3.4. France

7.3.4.1. France radiopharmaceutical market revenue, by type, 2015 – 2021 (USD Billion)
7.3.4.2. France radiopharmaceutical market revenue, by application, 2015 – 2021 (USD Billion)

7.3.5. Germany

7.3.5.1. Germany radiopharmaceutical market revenue, by type, 2015 – 2021 (USD Billion)
7.3.5.2. Germany radiopharmaceutical market revenue, by application, 2015 – 2021 (USD Billion)

7.4. Asia Pacific

7.4.1. Asia-Pacific radiopharmaceutical market revenue, by type, 2015 – 2021 (USD Billion)
7.4.2. Asia-Pacific radiopharmaceutical market revenue, by application, 2015 – 2021 (USD Billion)
7.4.3. China

7.4.3.1. China radiopharmaceutical market revenue, by type, 2015 – 2021 (USD Billion)
7.4.3.2. China radiopharmaceutical market revenue, by application, 2015 – 2021 (USD Billion)

7.4.4. Japan

7.4.4.1. Japan radiopharmaceutical market revenue, by type, 2015 – 2021 (USD Billion)
7.4.4.2. Japan radiopharmaceutical market revenue, by application, 2015 – 2021 (USD Billion)

7.4.5. India

7.4.5.1. India radiopharmaceutical market revenue, by type, 2015 – 2021 (USD Billion)
7.4.5.2. India radiopharmaceutical market revenue, by technology, 2015 – 2021 (USD Billion)

7.5. Latin America

7.5.1. Latin America radiopharmaceutical market revenue, by type, 2015 – 2021 (USD Billion)
7.5.2. Latin America radiopharmaceutical market revenue, by application, 2015 – 2021 (USD Billion)
7.5.3. Brazil

7.5.3.1. Brazil radiopharmaceutical market revenue, by type, 2015 – 2021 (USD Billion)
7.5.3.2. Brazil radiopharmaceutical market revenue, by application, 2015 – 2021 (USD Billion)

7.6. Middle East & Africa

7.6.1. Middle East & Africa radiopharmaceutical market revenue, by type, 2015 – 2021 (USD Billion)
7.6.2. Middle East & Africa radiopharmaceutical market revenue, by application, 2015 – 2021 (USD Billion)

Chapter 8. Company Profiles

8.1. Cardinal Health, Inc.

8.1.1. Overview
8.1.2. Financials
8.1.3. Product portfolio
8.1.4. Business strategy
8.1.5. Recent developments

8.2. GE Healthcare

8.2.1. Overview
8.2.2. Financials
8.2.3. Product portfolio
8.2.4. Business strategy
8.2.5. Recent developments

8.3. Bracco Imaging S.p.A

8.3.1. Overview
8.3.2. Financials
8.3.3. Product portfolio
8.3.4. Business strategy
8.3.5. Recent developments

8.4. Nordion, Inc.

8.4.1. Overview
8.4.2. Financials
8.4.3. Product portfolio
8.4.4. Business strategy
8.4.5. Recent developments
8.5. Advanced Accelerator Applications S.A.

8.5.1. Overview

8.5.2. Financials
8.5.3. Product portfolio
8.5.4. Business strategy
8.5.5. Recent developments

8.6. Bayer Healthcare

8.6.1. Overview
8.6.2. Financials
8.6.3. Product portfolio
8.6.4. Business strategy
8.6.5. Recent developments

8.7. Lantheus Medical Imaging, Inc.

8.7.1. Overview
8.7.2. Financials
8.7.3. Product portfolio
8.7.4. Business strategy
8.7.5. Recent developments

Chapter 9. Patents

9.1. U.S. (US Patents)
9.2. Europe (EP documents)
9.3. Japan (Abstracts of Japan)
9.4. Global (WIPO (PCT))
---
List of Figures
1. Global radiopharmaceutical  market segmentation by type, application, and geography
2. Global radiopharmaceutical  market, 2015 – 2021 (USD Billion)
3. Value chain analysis: Radiopharmaceutical  market
4. Porter's five forces analysis: Radiopharmaceutical  market
5. Market attractiveness analysis by type segment
6. Market attractiveness analysis by application segment
7. Market attractiveness analysis by regional segment
8. Global Radiopharmaceutical  Market : Company Market Share, 2015
9. Price Trend Analysis : Radiopharmaceutical
10. Patent trend between 2011 -2016
11. Patent Share by Company between 2011 – 2016
12. Patent Share by Region between 2011 – 2016
13. Global radiopharmaceutical  market share, by type, 2015 -2021
14. Global diagnostic radiopharmaceutical  market, 2015 – 2021(USD Billion)
15. Global therapeutic radiopharmaceutical  market, 2015 – 2021 (USD Billion)
16. Global radiopharmaceutical  market share, by application, 2015 -2021
17. Global radiopharmaceutical  market for cardiology, 2015 – 2021 (USD Billion)
18. Global radiopharmaceutical  market for oncology, 2015 – 2021 (USD Billion)
19. Global radiopharmaceutical  market for neurology, 2015 – 2021(USD Billion)
20. Global radiopharmaceutical  market for others, 2015 – 2021 (USD Billion)
21. Global radiopharmaceutical  market share, by region, 2015 – 2021
22. North America radiopharmaceutical  market, 2015 – 2021, (USD Billion)
23. U.S. radiopharmaceutical  market, 2015 – 2021,  (USD Billion)
24. Europe radiopharmaceutical  market, 2015 – 2021, (USD Billion)
25. UK radiopharmaceutical  market, 2015 – 2021, (USD Billion)
26. France radiopharmaceutical  market, 2015 – 2021,  (USD Billion)
27. Germany radiopharmaceutical  market, 2015 – 2021, (USD Billion)
28. Asia Pacific radiopharmaceutical  market, 2015 – 2021, (USD Billion)
29. China radiopharmaceutical  market, 2015 – 2021,  (USD Billion)
30. Japan radiopharmaceutical  market, 2015 – 2021,  (USD Billion)
31. India radiopharmaceutical  market, 2015 – 2021, (USD Billion)
32. Latin America radiopharmaceutical  market, 2015-2021,  (USD Billion)
33. Brazil radiopharmaceutical  market, 2015 – 2021,  (USD Billion)
34. Middle East & Africa radiopharmaceutical  market, 2015 – 2021, (USD Billion)
---
List of Tables
1. Global radiopharmaceutical  market snapshot
2. Drivers for radiopharmaceutical  market: Impact analysis
3. Restraints of radiopharmaceutical  market: Impact analysis
4. North America radiopharmaceutical  market revenue, by type, 2015 – 2021 (USD Billion)
5. North America radiopharmaceutical  market revenue, by application, 2015 – 2021 (USD Billion)
6. U.S. radiopharmaceutical  market revenue, by type, 2015 – 2021 (USD Billion)
7. U.S. radiopharmaceutical  market revenue, by application, 2015 – 2021 (USD Billion)
8. Europe radiopharmaceutical  market revenue, by type, 2015 – 2021 (USD Billion)
9. Europe radiopharmaceutical  market revenue, by application, 2015 – 2021 (USD Billion)
10. UK radiopharmaceutical  market revenue, by type, 2015 – 2021 (USD Billion)
11. UK radiopharmaceutical  market revenue, by application, 2015 – 2021 (USD Billion)
12. France radiopharmaceutical  market revenue, by type, 2015 – 2021 (USD Billion)
13. France radiopharmaceutical  market revenue, by application, 2015 – 2021 (USD Billion)
14. Germany radiopharmaceutical  market revenue, by type, 2015 – 2021 (USD Billion)
15. Germany radiopharmaceutical  market revenue, by application, 2015 – 2021 (USD Billion)
16. Asia-Pacific radiopharmaceutical  market revenue, by type, 2015 – 2021 (USD Billion)
17. Asia-Pacific radiopharmaceutical  market revenue, by application, 2015 – 2021 (USD Billion)
18. China radiopharmaceutical  market revenue, by type, 2015 – 2021 (USD Billion)
19. China radiopharmaceutical  market revenue, by application, 2015 – 2021 (USD Billion)
20. Japan radiopharmaceutical  market revenue, by type, 2015 – 2021 (USD Billion)
21. Japan radiopharmaceutical  market revenue, by application, 2015 – 2021 (USD Billion)
22. India radiopharmaceutical  market revenue, by type, 2015 – 2021 (USD Billion)
23. India radiopharmaceutical  market revenue, by application, 2015 – 2021 (USD Billion)
24. Latin America radiopharmaceutical  market revenue, by type, 2015 – 2021 (USD Billion)
25. Latin America radiopharmaceutical  market revenue, by application, 2015 – 2021 (USD Billion)
26. Brazil radiopharmaceutical  market revenue, by type, 2015 – 2021 (USD Billion)
27. Brazil radiopharmaceutical  market revenue, by application, 2015 – 2021 (USD Billion)
28. Middle East & Africa radiopharmaceutical market revenue, by type, 2015 – 2021 (USD Billion)
29. Middle East & Africa radiopharmaceutical market revenue, by application, 2015 – 2021 (USD Billion)